K. Gordon Neufeld
Filed under: Authors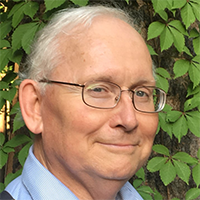 K. Gordon Neufeld was born and raised in Alberta, Canada. From an early age, captivated by the mystery and adventure novels he was reading, he aspired to be a writer who would write novels and stories that are both exciting reads and of high literary quality. He studied Creative Writing at the University of British Columbia, but after graduating with a B.A. in English in 1976, he travelled to California for what he expected to be a two-week trip.
That two-week trip turned into a 10-year episode in his life. While in San Francisco, he was recruited into the Unification Church of the Reverend Sun Myung Moon (the "Moonies"). He remained in the Moonies for a decade, and even participated in the mass wedding in Madison Square Garden on July 1, 1982. However, he never actually got to live with the woman he was "blessed" to in that ceremony, and by 1986, he knew he was going nowhere in his life and that he would have to make the difficult transition back to his old life. He returned to Canada and went back to the University of British Columbia, from which he obtained a Master of Fine Arts degree in Creative Writing in 1997.
While at the university, he resolved to write a book-length memoir of his experiences in the Moonies, which he later published under the title, Heartbreak and Rage: Ten Years Under Sun Myung Moon, A Cult Survivor's Memoir (Virtualbookworm.com, 2002). He subsequently published a book which combines nonfiction essays with samples of his writing from all the phases of his life (Cult Fiction: One Writer's Creative Journey Through an Extreme Religion Virtualbookworm.com, 2014), as well as a collection of short stories titled Prophet and Loss: Stories of Extreme Beliefs (Virtualbookworm.com, 2018). Mr. Neufeld continues to write primarily about the lives of people caught up in cults or in extreme beliefs, and about the people who love them. He is currently completing another short story collection and is at work on a novel. His author website is http://www.neufeldbooks.com.
After publishing his first book, Mr. Neufeld was contacted by a woman who was also a former member of the Unification Church. He began visiting her, and in 2009, he married her and became a permanent resident of the United States. He now lives with his wife and stepdaughter in upstate New York.
Mr. Neufeld was recently interviewed for the podcast "The Mind Renewed" by Julian Charles regarding the content of his book, Prophet and Loss: Stories of Extreme Beliefs.
Website: http://www.neufeldbooks.com/
Contest Won: North Street Book Prize 2018, Honorable Mention