The Jigsaw Project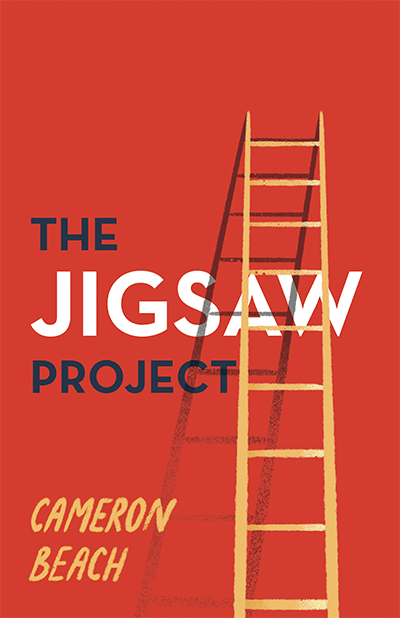 Critique by Jendi Reiter
Cameron Beach's taut, believable young adult novel The Jigsaw Project depicts the psychological strain on four teenage friends when they suspect that their prank has killed a fellow student.
From Poe's "The Tell-Tale Heart" to Donna Tartt's The Secret History, the trope of being undone by guilt for undetected crimes is perpetually compelling. After all, for many of us, our most unsparing critic is ourselves. We both hope and dread that some cosmic balancing act will redress wrongs that human justice can't reach, like the Furies pursuing Orestes in Greek mythology.
For this set-up to be satisfying, the novelist must balance the scales carefully between justice and mercy. We need protagonists who may be imprudent, self-absorbed, but not intentionally wicked, so that we can identify with them and hope against hope that they'll escape the outsized consequences of their one mistake. We need hidden fault lines within their relationships so that loyalties are tested and sometimes broken. And we need an innocent person to die.
The Jigsaw Project has all the right ingredients in good proportions. High school seniors Theo, Madi, Booker, and Nolan are true heirs to Ferris Bueller. Each year they orchestrate an elaborate, absurd prank at school, which no one has been able to trace back to them. For their final trick, they decide to steal random screws from fixtures all over the school, then present the principal with a bucket of the mismatched screws, a nearly unsolvable puzzle (hence the "jigsaw" moniker) to return them to their proper places. Unfortunately, a student on theater tech crew falls to her death from a ladder in the auditorium, right after one of our protagonists removed a screw from that same rigging.
Tensions run high in the friend group as they debate who is to blame, whether to confess, and who has the most to lose. The group's ringleader reveals his vulnerabilities, romance blooms but is nearly crushed by betrayal, and a self-effacing person develops courage. The age of the protagonists is just right for the storyline. Privileged, goofy kids when they start out, they have emerged into adult moral responsibility when their ordeal reaches its climax.
In my day (cue 50-year-old man voice) young adult novels could end in tragedy more often than today's trends allow. By the time we learn all the details of the girl's death, and what consequences the four teens will face when their prank is exposed, we're ready for these chastened kids to catch a break. Though I was relieved, I also wasn't wholly convinced that the unfortunate Sophie would have taken the risk that contributed to her fall. Then again, perhaps the message of this book is that teenagers have poor judgment!
This was one of the most professionally executed novels in the contest, with a smooth writing style, believable dialogue, and no filler. The cover design of a ladder and its shadow against a red background stood out for its simple elegance, readability, and dramatic impact. Teens and adults will enjoy this fast-paced, emotionally layered story.
Read an excerpt from The Jigsaw Project (PDF)
Buy this book on Amazon