The Sand Collector
Illustration by Phillip Fleming
Even before I met Salim, I knew what the desert was like, how uncaring it was, how the wind picked up the tiny golden grains, swirled them in the air and tossed them away without a second thought. I knew that the wind not only picked up sand, but it also sometimes carried off makeshift homes and tossed them in the air, spun them around and let them fall where they may, like a roll of the dice. We met in 1982, when the last Israeli soldiers were withdrawing from Sinai in a somber mood, leaving the desert wilderness to the Egyptians, who raised the red-white-and-black flag atop the chain link fence that marked the new border. Torches were lit in Cairo, Sharm al-Sheikh and Rafah, colorful carpets laid out, flower petals tossed, and brass bands played until midnight.
The Bedouin tribes, with their snow-white kaffiyehs, were once free to roam the stony slopes with their black goats munching on sparse vegetation, growing crops of grain and trading charcoal, and now they were stranded on either side of the new Israeli-Egyptian border. Salim lived exposed to the elements, behind a blue tarp hung over a box of rusted scrap metal, plywood and orange crates in Wadi al-Na'am, the largest unrecognized Bedouin village in the State of Israel. His village was home to several thousand Negev Bedouins living in tents and tin shacks, only a few hundred meters away from a toxic waste dump. An Israeli Defense Force live-firing range was within earshot. Many of the men in the village worked in the hazardous waste disposal facility, which regularly caught fire, injuring workers, shepherds, donkeys, sheep and even soldiers stationed nearby. A toxic cloud hovered over the village, leading to many miscarriages, children born with eye, ear, teeth and respiratory problems, and Salim's father dying of lung cancer.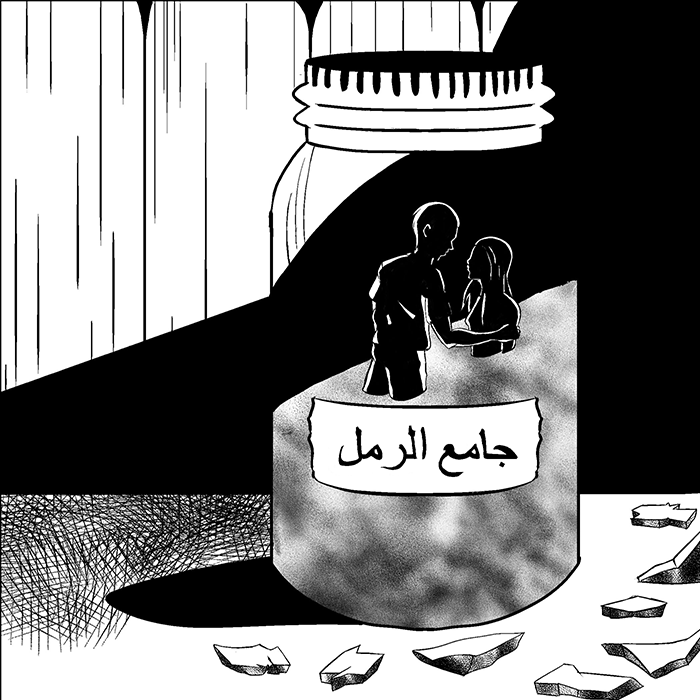 I lived only four kilometers away, in Be'er Sheva, on the northern edge of the Negev desert, in a city which is now home to a booming high-tech industry and immigrants from the Soviet Union who became chess masters, but when I was growing up it was only a mid-sized city surrounded by sand. When I met Salim, I was fourteen years old, a lonely girl. I was described by some of my teachers at school as quiet and unapproachable, but I liked to think of myself as self-sufficient. I knew that in the Negev the air was too dry for epiphytes, those plants that grow on other plants. Like a true desert-dweller, I never wanted to rely on someone else. I wanted to swim in the air, to be without proper roots, to be detached, dismembered. I hardly spoke in public at all, until I met Salim. Instead of talking to my mother or a classmate, I went out into the desert, to the sand dunes, and talked and talked into the void, sometimes venting frustrations or whispering my biggest secrets to an empty landscape. It was Salim's broken Hebrew, with its thick accent, that made me want to talk to him. Once I started talking, I couldn't stop. I wanted to drink and drink from Salim, like a never-ending pool of clear water, but when he was finally mine, he dissipated between my fingers like a distant mirage of an oasis, a ray of light bent through layers of air.
Unlike his older siblings—all five of them, brothers, who worked at the toxic waste facility—Salim went to school. He did not go down the block like a Jewish-Israeli child would, like I did. Instead, he walked for kilometers and kilometers to the next village, in the early morning darkness, and then walked back, for hours and hours, arriving home by nightfall. He promised himself he would never work in the waste disposal facility like his father and brothers. He dropped out of school and became a smuggler by the age of fifteen because he had seen how the smugglers lived, with their trucks, their bowls of rice and goat meat, their perfumed homes and ornate rugs. He became a smuggler because he needed the money. Knowing Hebrew wasn't enough to get a job, neither was a high school diploma, unless he wanted to do what his father did. He knew the risks of smuggling. He could get caught by the Israelis, by the Egyptians, even by his own people.
Smuggling is a different business now, I read in the news, since Egyptian troops increased their numbers. The soldiers sit on fold-out tables, smoking and playing cards, listening to radio-chatter on their walkie-talkies, occasionally patrolling parts of the border. The tunnel passageways between Egypt and Gaza are shoulder-width, strung with lights, and utilize a mechanized pulley system to deliver the goods. They smuggle canned tomatoes, medicine, olives and weapons. In larger tunnels, they bring cars without license plates; a battered old Mercedes, a Kia, and a Range Rover. Once, they even snuck across the border a tiger and a small elephant which made their way to the Gaza zoo.
The night before we met, I listened to the various sounds of the desert, separating them like instruments in an orchestra; the slithering of the blue-headed lizard, the rattle of camel-spiders lifting their sting to strike the soft underbelly of a rodent, the clump-clump-clump of the ibex's hooves, the clash of their horns, hard as fossilized stone. I joined the orchestra with my own sounds, telling the desert about the new hair that sprouted between my legs, and how Mom chewed too loudly when she ate her salad of cucumbers and peppers, and how lonely I was.
The next morning, I rode my bicycle in search of desert flowers. They were out in abundance, carpets of red anemones, purple lupines in full bloom, the clusters of flaming petals of Solomon's Rock. I found Salim, a shirt tied on his head to protect himself from the sun, one hand raised to shade his eyes. He took a piece of sheet metal and used it like a skateboard to slide down the dunes, blending into the sand with his dusty Adidas tracksuit. I was close enough to him that I saw his different-colored eyes: the left was green, and the right was blue. There was a crescent scar on his cheek, pale as milk, shaped like barbed wire. Later, he told me that he got the scar from climbing the six-meter tall Egyptian border fence and tossing over a package. When the Egyptian troops opened fire, he panicked and cut himself on the barbed wire fence, dropped down into the darkness and fled, his face bleeding onto the sand.
I grabbed another piece of sheet metal and slid down the dune, wordlessly. Salim followed, skidding down the sand. We played this game for several minutes, without really acknowledging each other's presence except for a few stolen glances. I liked how he could be quiet, like me. He didn't draw attention to himself, he waited like a lizard basking in the sun. I noticed his skinned knees, a pale pink in contrast to his brown skin. He took off the shirt tied to his head; his messy hair was peppered with sand. He took out a disc of colored glass from his pocket and held it up to his eye like a telescope, then passed it to me. I took it and saw the world tinted, the sky a dark ivy. I liked to imagine he saw half of the world green with his green eye, the other half blue with his blue eye. In the distance, a pickup truck stopped by the side of the road. A teenager stepped out in a Spiderman shirt, watching us. He called out: "Salim! Salim!"
"I am Salim," he told me in heavily accented Hebrew. "That is my friend, Spiderman."
I didn't say anything.
He smiled, revealing a crooked front tooth. "Same time tomorrow?"
I surprised myself and returned to the same spot the next day, and there he was. We walked around slopes of chalk-stone and he picked the stems of the shaggy and fibrous sparrow-wort bush to knead into a rope. He brought me the tiny skull of a kitten, pale against the palm of his hand. It probably belonged to a sand cat. The ear canals were very wide, a sign of the creature's enhanced hearing capacities. I wondered if this was a sign that, finally, I had met someone other than the desert whose ears were big enough to listen to me.
"Does this make me Cat Woman?" I asked.
He took a long silver spoon, scooped up sand and put it in an empty glass jar. He did this again and again, until the jar was half-full. Then, he took out a pen and wrote on the jar in Arabic.
"And I am the Sand Man."
Only when I was no longer a child did I read the fairy tale of the Sand Man, who sprinkled dust and sand in the eyes of children to get them to fall asleep. He had a silken coat which constantly changed colors, from green to red, from red to blue, just like Salim's eyes. He had two umbrellas, one under each arm. The first umbrella, which he spread over good children, had pictures on it, and made them dream the most beautiful stories. The second umbrella was blank, without any pictures, and he spread it over the naughty children, who slept a heavy, dreamless sleep. Of course, by then, I also knew the evil version of the Sand Man, the one you didn't hear about in the fairy tale, about the thief in the night who snuck up on children who couldn't fall asleep and stole their eyes. Sometimes, when I thought back at the time I spent with Salim, he was the evil Sand Man, with my stolen eyes in his pocket, and other times, he was the good Sand Man, spreading his umbrella over me, and I stared up at the pictures and dreamt of beautiful things, of lapis lazuli and opals, rubies and cat's eye, coral and turquoise, pearls and topaz.
Salim told me he had to go. We set up a time to meet on the dunes, and he disappeared, leaving me with the pale skull of the sand cat in the palm of my hand. When we met, he did not mention his sudden disappearance. He wanted to talk about the ardha, the camel racing show, and his eyes glowed, almost feverish. The races were held at an abandoned desert air strip. The al-hejin racing camels were lean, slim and agile, like him. The riders must be light, and he was a feather. War songs were sung. Colorful rugs and cloths were on display, hung on tent ropes. When training the young camel, he told me, the trainer must attach it by a rope to an elder beast, a more experienced camel. The rope fixed around its head controlled the younger camel's movements and it became accustomed to being mounted by a rider and being raced around a track. He told me about the Tulu wrestling camels from Turkey, which fought by using their long necks to leverage down their opponents. For a moment, I imagined his neck struggling against mine, his hot breath in my ear. I wanted to leap onto him, to wrestle him down, but instead I sat on my hands, afraid of what I might do if they were free.
We started meeting on the sand dunes regularly, by the mauve horsetail knotweed waving in the wind, the fleshy leaves and pink flowers of the violet cabbage shrub growing out of the stone. Salim brought gifts, small tokens: spiced olives, sweet madjhoul dates, pita dipped in zaatar and oil. And then he brought more expensive trinkets, strange objects: a hand-carved wooden camel, Argentinian playing cards, Egyptian postage stamps, invisible ink, American cigarettes, a cactus with pink flowers. I had no idea where he got it all from. Once, he brought an assortment of music boxes, each one a different size, each one playing a different tune. I turned the lever and the music sprung out of the tiny box, echoing across the emptiness of the desert. As we listened to the music, our foreheads almost touching, Salim scooped up sand with a silver spoon and put it in a jar. He took out a black felt-tip marker and wrote on the side of the glass jar in elegant calligraphy which I couldn't read.
I invited Salim over to my house. To my surprise, he accepted. I wondered if he had been to Be'er Sheva before, or to any big city. I lived in Neighborhood Bet, which started off as a home to immigrants from Poland, Egypt, Libya and Russia. It was home to the football club Hapoel Be'er Sheva, which was not the best team, but also not the worst. I did not care about football, although I thought he might, so I told him about the stadium. He did not care about football, either.
Mom wasn't home and there was no need to explain why I had anyone over, much less a boy. We sat in my room. I grew up hearing about the hospitality of the Bedouins and I felt inadequate. I wanted to offer him something, to reciprocate his generous gifts, but what did I have that was special? We had cottage cheese and milk in the fridge, cereal and bread in the cupboard. There was a mint plant in the kitchen. Some of its leaves were brown and withered, but a few were salvageable, a bright, healthy green.
"Do you want any tea?" I asked.
He nodded. "I like it with a lot of sugar."
I tore off the leaves of the mint plant and put them in two glass cups, then poured a generous amount of sugar. The kettle boiled, and I stood by the steam for a moment, letting it heat my face. I took a deep breath. My hand shook, and I spilled a little. Salim slurped the hot tea and nodded like a grown up. At least, I didn't ruin the tea. He stared at a photograph of my third birthday party. My cheeks were puffed up like a hamster's and I was inhaling as much air as I could, hovering over a yellow sponge cake with three mismatched candles.
"We can make a cake," I said.
Standing on top of a stepstool, I collected the necessary ingredients. What a stupid idea. I couldn't even remember Mom's recipe. I should have paid more careful attention. A big plastic bowl, flour, sugar, a carton of eggs. I poured the flour into the bowl and cracked the eggs into it. The yolk was bright orange, radiant. The cracked shells were tossed aside. I started whisking it all together, sliding a finger into the batter and retrieving it dripping, coated in the thick mixture. I slipped the finger into my mouth, without thinking, and he watched me lick it clean.
"Now, your turn." I handed him the bowl.
Salim slid his finger along the rim of the bowl. His face transformed once he tasted the sweetness. We ended up sitting on the floor, eating the raw batter with our fingers.
"What is your earliest memory?" he asked.
"My mother was in the kitchen. She was talking to a friend. I knew it was about me. She said she was worried because I don't talk. I felt terrible. It made want to talk even less."
"You do talk."
"I guess," I said. "What's your earliest memory?"
"A scorpion sting."
He tells me that when he was just a baby his father went out to hunt for a scorpion. His father came back with the dangling yellow creature and crushed it under his sandal. He burnt it and mixed it with oil, creating a poisonous paste, which he smeared on Salim's tender skin. Ever since then, he hardly even felt a scorpion bite. He brushed it off, like sand.
Salim disappeared for days. At the time, I didn't know yet that he was meeting his friend, Ahmad the Spotter, who only had three fingers on his left hand. Salim went to drink coffee under the carob tree with him, to discuss the next smuggling operation along the new Egypt-Israel border in Sinai. Ahmad lived by the new border and wanted to be a tracker for the Israeli Military's al-Heib Minority Unit. He knew the land better than anyone. A small number of Bedouin volunteered to serve each year, although I never understood why they would. For now, Ahmad smuggled to make a living, acting as a spotter along the border. Ahmad taught him to walk backwards. Many smugglers, knowing their pursuers will follow the direction of their footprints, learned how to walk backwards. The real way to distinguish the direction the person is headed is by noticing how sunken the footprint was, where the most weight had been placed.
On one of their first missions together, they smuggled a hoard of old video cassettes and comic books into Egypt, among them Syrian soap operas and pornos. They kept several videos and comics for themselves, as they usually did with the smuggled goods. They read and re-read the Spiderman comics in Ahmad's tent and argued whether his superpower abilities helped him make pizzas in his day-to-day job. Ahmad started wearing a Spiderman shirt he found in the trash heap. Salim made fun of him, called him Spiderman. They talked about the harmless smuggles, made jokes as if it were a normal job. Today, twenty-five years later, I read in the news about the Bedouins that smuggled materials for pipe bombs that were shot at Israel from Gaza. Salim would never have done that.
The next time we met on the dunes, we had a running race. We sprinted down the sand, which sloped like the hips of a fat woman. Afterwards, we lay on our backs, and struggled to recover our breath. I rolled up my jeans, exposing my shining calf muscle. Salim stroked it, wiping away the sweat, as it pulsed under his touch. It was the first time we had really touched. I watched his chest heave up and down, up and down, until it slowed, relaxed, regained its natural rhythm. I stared up at the darkening sky sprinkled with stars for a very long time.
"Don't you have stars in Be'er Sheva?" he asked.
The desert wind got stronger and I curled up, shivering, next to him. He placed his arms around me, held me. I kissed him, softly, on the lips. He grabbed a handful of sand and placed it in a jar.
"I want to remember this moment," he said.
"This moment is still happening, idiot."
The next time we met, we drank tea together. Salim brewed wild sage, cardamom pods, cinnamon bark, black tea leaves, and raw sugar in a kettle over an open flame. He told me that he wanted to work in the tourist industry. He said that his dream was to go, every once in a while, to a resort in Sharm El-Sheikh to scuba dive in the Red Sea with rich Europeans, pointing out white-tip sharks accompanied by a congregation of pilot-fish of varying colors, jellyfish and drifting seaweed, bottlenose dolphins chasing a shoal of fish, squids, mollusks, and shrimps, dugongs grazing on the sea-grass beds, logger-head turtles spreading their forearms to mid-stroke position, then floating motionless, their enormous heads bobbing, eyes half shut. Only later, I discovered that Salim did not, in fact, know how to swim.
Salim took me to his home in Wadi al-Na'am, to his tent with the sheet metal roof, the one that can be blown away by a gust of wind. All around us, I saw the waste piled up, bubbling and gushing like a living thing, producing a sharp stench which made it difficult to breathe. I did everything I could to stop myself from coughing because I didn't want him to think it affected me. The air seemed thick and yellow, as if a toxic cloud hung over the village, and the earth itself was poisoned, spoiled. The tin roofed shacks jutted out from the earth, the factory chimneys in the distance expelled tunnels of dark smoke into the sky.
Sensing my anxiety, Salim tried to put me at ease by telling me that he used to play on the trash heaps with his brothers. He would find rubber tires to roll around, and they would chase each other down the derelict piles. He used to build little toys out of the refuse: cardboard planes with rotating plastic propellers, wooden boats with working rudders, fire-engine trucks painted red. When Salim was very young, he walked around the trash heap with his father, hand in hand, after his shift at the facility, and he would ask him questions: Are there seven wells in Be'er Sheva? Why is an orange in your hand bigger than the sun in the sky? How many cherry hearts can you swallow before a tree grows in your belly?
Everyone greeted Salim as we passed by. A group of young girls, their hair in braids, followed us around, giggling. They were dressed in bright colors: pink, purple, red. Two men urgently communicated using sign language, their fingers tapping and pointing, making circles and waves. Several boys sprinted past after a yellow football, raising a cloud of dust in their wake. An elderly woman in a dark robe, her tattooed face as wrinkled as a prune, hung clothes on the line.
Beside Salim's tent, a truck was parked, and a camel was tied to a post. Outside, stood a flat, circular tabun oven for frying bread. When we approached his tent, it appeared to dazzle in the sun. There were towers of glass jars half filled with sand, that reflected the sun and shone back into my eyes. Each of the jars was labelled in beautiful Arabic calligraphy which I couldn't read. I picked up a jar, then another, at random.
"What does this say?" I asked.
"That one says Broken Leg. And the other Best Shawarma."
"It doesn't look like shawarma."
"I collect memories," Salim said.
"But they all look the same."
"Exactly. They are all the same."
It was a strange collection. All of the jars of sand were identical, but each evoked a very specific, intimate memory for him. The most recent jars were probably all about experiences we shared, like the first time we kissed. Which jar reminded him of my stumbling tongue, flicking in and out of his mouth, or my chafed, dry lips? Which jar reminded him of the sweat-soaked sheen of my calves, the muscle pulsing and bright, after we ran our race down the dunes?
"So, all your sand is from here?" I asked.
"My backyard is the desert. Why would I go anywhere else?" He scooped up a handful of sand and sprinkled it into an empty jar. "So, I'll remember your visit."
Inside, Salim offered me tea and coffee, dates, toffee candy, and almonds. He kept refilling my glass with sweet tea, again and again, until I had to excuse myself to go pee. When I came back, he was speaking with Spiderman outside. Spiderman had come by in his truck to talk to Salim and I stayed inside, sitting on his fold-out cot bed, staring at the blue tarp and swinging my feet. In the corner of his room, by his bed, rows and rows of jars were stacked. I picked them up, each one identical except for the writing. I tried to remember what little Arabic I learned in school. There was a jar with Jamila, the word for beautiful and bint, the word for girl. I wondered if it was about me. It could be about some other girl, more beautiful than I am, with hair like honey and golden bracelets around her thin wrists. A girl who likes gifts. I started pacing around the room. Maybe Salim had a gift for every girl, and then he took them here, to his home, where he showed them his glass jars and made up a story about collecting sand in order to remember—my foot bumped against a wooden crate.
I opened up the crate. At first, I thought that inside was more sand. Did he also collect it cemented in slabs, wrapped in cloth? But it wasn't sand he was collecting in the crate. Whatever it was, it had a distinctive musk, it smelled like a combination of moss and spider flowers. I discovered later that inside there were two-hundred and thirty-one slabs of fresh, blond hashish, each wrapped in cloth and bearing the seal of a farmer. I didn't need to count, Salim confessed the exact amount. When I was older, I tried smoking hashish smuggled from Egypt, and I loved it. It tasted like cinnamon. I still have no idea how he smuggled it, but I like to imagine him with a flock of sheep, hundreds of bundles of hashish tied to their flanks, hidden in thick tufts of wool, as they advance unhindered in the rock and sand of the desert. Perhaps he had different methods.
I started noticing little things after that. The late-night, hushed conversations and disappearances, the crates in Spiderman's truck, the bundles of cash under Salim's mattress. Once I was looking for signs, they were hard to miss. All of his gifts, his presents and little tokens—all stolen goods. Even the story he told me of the Bedouin tribe chief and the Israeli military commander, and the way he laughed at the end of it, made me suspicious. The Israeli commander and Bedouin chief met after the Six Day War, when the Israelis occupied Sinai. The chief was concerned about the burial of Bedouins who died in Israel, after being treated in a hospital in Tel-Aviv. When the terribly ill Bedouins died, Israel did not know what to do with their bodies. They had not buried them or returned their bodies to Sinai. The chief offered to convert a truck into a hearse and bring back the cadavers for burial. In reality, he was looking for a way of transporting stolen goods, since no customs officers would search a decomposing body for bags of hashish. I became quieter and quieter, fading into the background, just like a dust-coated shrub in the sand.
Out on the dunes, Salim wanted to kiss me again, but I pushed him away. It hurt him, to be pushed away, but I could not speak. I had lost my ability, which used to be so easy with him. He did not look me in the eye. Instead, he gave me a silver necklace with a crescent moon, studded with diamonds.
"Can I put it on your neck?"
I took the necklace from him and flung it far away, where it disappeared in the sand. He knew that he had been found out. And so, Salim told me everything and around us the sky darkened, and he talked and talked, sometimes struggling to find the right words in Hebrew. When he couldn't find the right word, he cursed in Arabic under his breath, and then sighed, and picked up the story where he left off. His breath, close to my face, smelled of licorice. I wanted to tell him something dramatic, like, grab a handful of sand and put it in a jar, because this is the last time he was ever going to see me. In the end, I didn't say anything. I just got up and walked away. I didn't even look at him.
I never met Salim again. I imagined he had been caught. He was distracted, he could taste me on his tongue still, and he thought of my smooth skin, the slightly sour smell of my hair, and how I said I hated him. He thought of collecting all the sand in the desert, all the gifts he would give me to make me forgive him. Maybe my tea reminded him of his mother's and it was a good sign and he wished I could have met her. I picture Salim going to the meeting point where he would make the exchange. The area was deserted, the land pitch black. He may have shivered. He thought: where is Ahmad? Where is my friend? Perhaps the exchange had been cancelled or postponed. The longer he stood there, by the fence, waiting, the bigger his chance was of getting captured or shot. Just as he was about to leave, two armed men approached him, silent as night. Salim did not hear them coming, not until they were right beside him. Knowing not to resist, he stood there, slack. They expertly blindfolded him and maneuvered him into a truck, which sped away and was gone.
I want to believe he was captured by his own people. The leaders of the tribe discouraged smuggling and punished those who were caught attempting it. When Salim found out that he had not been caught by the Egyptians or the Israelis, he let out a sigh of relief. At least, he would not rot in prison. His people had their own forms of punishment, for the most part long abandoned now. His innocence was meant to be proven in the fire test. He was brought before the judge. Tea was served to the onlookers. The mubashe heated up the silver spoon for the fire test. Once the spoon was white-hot, he placed it on Salim's tongue. The tongue of a liar will burn. The anxiety of lying dried out the tongue, causing the burning metal to scorch the flesh. The truth will be revealed through pain. Salim struggled not to cry out. The spoon was placed a second time on his tongue. The pain was excruciating. On the third and last time, the pain was too much. He nearly passed out. Once the spoon was retrieved, he rinsed his tongue with water. The mubashe pried his mouth open and inspected it for signs of a burn, the scarring which signals guilt.
I do not really know for certain that any of this really happened and I hope, for Salim's sake, that it did not. I know I never saw him again. I knew he was still alive, because he left me gifts of labelled sand-filled glass jars. The jars glittered on the dunes, and I collected them, but I never saw him. He knew how to evade detection, to blend into the sand. Maybe he watched me from afar as I picked up the jars of sand and put them in my bicycle basket. These were the gifts of what could have been. They were not real memories. They were written in Hebrew, as if by a child, with spelling mistakes and an unsure hand, but I could understand them. Each memory was only a word or two, but it was enough to evoke a feeling, a possible future. I kept the jars of sand in my room on my bedside table, by the pale skull of a sand cat, and imagined what could have been.