The Saugus Book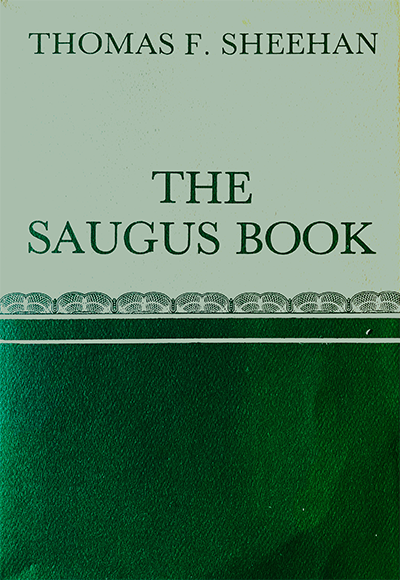 Critique by Jendi Reiter
When I encountered Thomas Sheehan's The Saugus Book, the word that recurred in my mind to describe these poems was "mature". Even had his cover letter not mentioned that this accomplished craftsman was in his 94th year, his poetry's philosophical tone and control of language bespeak a narrator who has burned off youthful excesses. The result is a collection that is straightforward but not merely colloquial, rich with emotion tempered by self-restraint.
Saugus is a town of about 28,000 people near Boston, MA, that was formerly an industrial center and is home to a historic Iron Works. Many of Sheehan's poems depict working-class residents—welders, nurses, carpenters—in scenes that do justice to both their physical ordeals and the warm wholesomeness of their close-knit community. Most workers in these narratives are men, though the book's strong opening poem, "Sign on a Wall", pays homage to his mother's baking. Her dough board is now a "fallow field", but for most of her life she regularly "struggled great breads/ out of its surface". And now "if I bang it hard enough, fisted,/ belligerent about recall, a small/ cloud of powder floats her love." The allusion to communion goes unstated because Sheehan is a subtle writer, but what a perfect image of love embodied as self-giving nourishment.
There is a strong elegiac theme as Sheehan memorializes industries that have passed their heyday, such as the typewriter company and the railroad that once symbolized Saugus's role as a manufacturing hub. The longer poem "Nearly Saugus" gives us a nostalgic tour of some of these sites, while "The Saugus" is a river-as-history poem reminiscent of T.S. Eliot's "The Dry Salvages". It's a scenario that repeats all across the Northeast in mid-sized cities left behind by the post-industrial economy.
The Korean War is the book's other major theme. Some poems are narrative slices of life featuring veterans in Saugus, and others include harsh personal memories of war. In the poem "Once Screamed to the Flag Waving Drunks at the Vets Bar", Sheehan imagines countering their bluster with details about just how unromantic warfare is: "when blood and clay/ strike the same irrevocable vein,/ arterial mush". He contrasts the catechism's "God is everywhere" to soldiers' crisis of faith as they carried a comrade's body:
Lugging god
on sticks and canvas
is frightening,
we felt this.
Jesus! we screamed,
have You let go of this god?
Do you fill him up making him burn our hands?
Occasionally Sheehan's re-creation of an earlier era introduces attitudes that should have been left in the past. The Saugus Book was self-published in 1984, but even then it was recognized as problematic for a white child to make a "slanty eyes" gesture about Asian people. The premise of the poem "Chinadown, Chinatown" is a set of generalizations about boys and girls that went out of style in the 1950s. In the above-quoted "Flag Waving Drunks" poem, a Hispanic soldier is nicknamed "Spick." Though this may have been typical banter for Korean War soldiers, I wasn't sure how to feel about the lines about him wanting to wash the brown off his skin to be more like "us". Maybe that internalized racism or the need to assimilate was true to this person's experience. The point of the anecdote was that race didn't matter to the soldiers' brotherhood, so I think Sheehan's intentions were good, but it was an unnecessary snag in an otherwise stunning poem.
The design of the hardcover book was elegant and high-quality, with an understated matte green cover and thick paper that had a letterpress-printed feel. There were few typos, mostly periods missing at the ends of sentences. As a collection that was on the longer side (134 pages), its flow would have benefited from being broken up into three or four thematic sections. Recurring motifs unified the book, but it didn't always feel like there was a developmental structure moving it forward. The Saugus Book is a solid addition to the canon of American war poetry and 20th-century working-class history.
Please enjoy a free download of The Saugus Book for your private enjoyment (PDF)