Angela Carole Brown
Filed under: Authors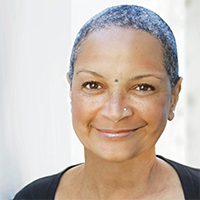 Author and musician Angela Carole Brown was born in Los Angeles, California, to an artist father and a political mother, and has continued to live in L.A. which provides the setting for most of her writing. She has made her primary living as a musician and recording artist for the better part of three decades, writing books the entire time, but only "coming out" as a novelist in 2006 with her debut, Trading Fours. When it comes to books, then, it seems only fitting that Angela's first literary release would be a tale of music, as it sets itself on a single day in the life of four musicians.
Trading Fours has been called "a Zen and the Art of Motorcycle Maintenance for musicians." It has been featured on KPFK's Arts in Review and KUCI's Blacklisted; given honorable mention in Music Connection Magazine; and featured in an Ejazznews.com article entitled "Jazz Encounters of the Literary Kind" by the UK columnist John Stevenson, who wrote: "Trading Fours is in few respects, a triumphant meeting ground of art and sociology." A second edition was published in 2014 under her own imprint Haiku House.
Angela's sophomore effort, The Assassination of Gabriel Champion, also with Haiku House, is a modernist tale of the rarely depicted Los Angeles art scene that explores themes of violence and redemption. Setting its stage in the diverse boroughs of pre-Millennial L.A. and climaxing in the feverish streets of Paris, this new work is a kaleidoscope of violent mood and memory, a meditation on art and artists, and an atmospheric, sometimes brutal parable on the complex nature of love, which
asks the question: what can we forgive?
Angela is also a memoirist, whose first published effort in this genre is The Kidney Journals: Memoirs of a Desperate Lifesaver, which recounts her extraordinary odyssey of being a kidney donor, during a time of great personal depression.
Shorter works have been featured on Kidney.Org, the Highlight Network, World of Poetry Press, and Angela's own blog, Bindi Girl Chronicles. She is a recipient of the SoulWord Magazine Award in Poetry.
As a singer, Angela has recorded voiceovers, movie cues, jingles, and CDs for herself and other artists, including Josh Groban, and demo work for The Book of Mormon's Matt Stone and Trey Parker. She presently the lead singer in the genre-obliterating Elvis Schoenberg's Orchestre Surreal, a recipient of a Los Angeles Music & Media Award for "Best Rock Opera". Most recently, she was featured in the documentary The Goddess Project.
Twitter: https://twitter.com/angelacarolebro
Website: http://www.angelacarolebrown.com
Contest Won: North Street Book Prize 2018, First Prize