Anna Prawdzik Hull
Filed under: Authors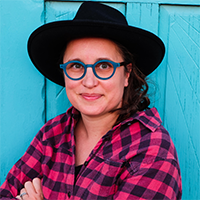 Anna Prawdzik Hull is a Canadian writer, literary translator, and editor based in Albuquerque, NM. She holds an MFA in fiction from Boston University and an MFA in fiction from Manchester Metropolitan University (UK). She earned a research master's degree in sociolinguistics and linguistic human rights, for which she conducted extensive field work on language use and language death in post-colonial and English-speaking Sub-Saharan Africa, with a particular focus on urban and rural Zambia and Zimbabwe, formerly known as Northern Rhodesia and Rhodesia, respectively. Anna also holds two bachelor degrees, one in language acquisition, and the other in philosophy and Latin. She earned a graduate certificate in editing from the University of Chicago, and is a member of several professional translation and editorial associations.
Anna won a multitude of prizes and awards including the Shmuel Traum Prize in Literary Translation, the Editor's Choice in the Raymond Carver Short Fiction Contest, and a Leslie Epstein Global Writing Fellowship. Her short fiction was published in Solaris, broadcasted by PenDust Radio and Rivercliff Media, and is forthcoming in Carve. She is currently working on her first short story collection about borders.
Anna grew up in three countries (Canada, France, and Poland) and lived in Mexico, India, Italy, the UK, Zambia, Hungary, Hong Kong, and the US. She speaks English, French, Polish, Spanish, and Italian. Beside working as an editor and literary translator, Anna taught French and Spanish, as well as Spanish and French literature, art history, and outdoor education in six countries, and creative writing (fiction, nonfiction, poetry) at Boston University. She is also works for AGNI Magazine in Boston.
Anna has a corgi named Lemon and two elderly cats. Her oldest cat, Coshlee, has an Italian pet passport and has lived in five countries (and on four continents). In her spare time, Anna gardens, hikes, runs, reads, studies Japanese, and cheers on her husband's music band in Albuquerque. Her husband, originally from Boston, is a writer, editor, and publisher (and he's also a talented drummer).
Visit Anna on her webpage, Twitter, Instagram, and Facebook.
Website: https://www.annahull.com/
Twitter: https://twitter.com/annaphull
Facebook: https://www.facebook.com/anna.pra.319
Instagram: https://www.instagram.com/anna_p_hull/
Contest Won: Tom Howard/John H. Reid Fiction & Essay Contest 2020, Honorable Mention