Barbara Jean Hicks
Filed under: Authors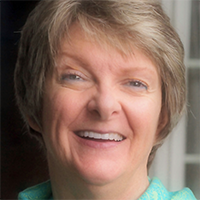 Award-winning author, storyteller, speaker and educator Barbara Jean Hicks began her professional writing career with a series of romance novels and novellas. After publishing thirteen books and reading an online review of one of her romantic comedies that suggested she "really ought to be writing for children, [as] no one else could appreciate such silliness," she took stock of her skills and interests and switched her focus to children's picture books.
Barbara could not be more grateful for the snarky review; in the last dozen years she has published eight picture books, including Once Upon a Parsnip (independently published with Mascot Books), Monsters Don't Eat Broccoli (Knopf), Frozen: A Sister More Like Me (Disney Press) and Jitterbug Jam: A Monster Tale (FSG).
Barbara has taught at the preschool, middle school and community college levels and worked in an urban elementary school as author-in-residence, program facilitator and parent educator. She has also written marketing copy for numerous businesses and trade publishers and worked as a freelance editor and proofreader.
Based in Northwest Washington State, Barbara travels extensively to deliver her highly rated Young Author and Family Literacy programs to students, teachers and parents throughout the U.S. She also regularly dons a gown and tiara for bookstore, library and community events as "Barbara Jean, the Story Queen."
Barbara's journey began in a tiny two-bedroom, one-bath house in small-town Washington State, where she was the middle of seven children. While material goods were spare in her growing-up years, her parents provided their children with treasures of a different sort. They loved and respected each of their children as a unique individual; they honored learning, collected books, and read every day, both for their own pleasure and aloud to their children; they filled their home with music; they took their children to Sunday school, where they learned (and memorized) the beautiful English of King James; and they took the family on road trips, the most memorable of which were visits to their Grandma Lizzie Lou, who was a born storyteller.
In short, Barbara grew up in a kingdom of imagination, language, beauty and love, the very best sort of world for a story-queen-in-training. Her childhood nurtured her mind and spirit, stimulated her curiosity, and created memories—the places from which stories spring.
Website: http://www.barbarajeanhicks.com/
Contest Won: North Street Book Prize 2018, Honorable Mention