Belle Ling
Filed under: Authors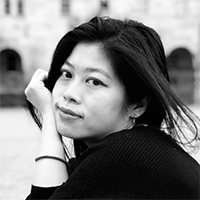 Belle Ling was born in Hong Kong and grew up in the New Territories of Hong Kong. After finishing her study in English Studies at The University of Hong Kong, she went to Australia to study Master of Creative Writing at The University of Sydney. There, she embarked on her very first adventure of poetry. Her eyes to the poetry world have since been charmed. Afterwards, she went back to Hong Kong to work in different areas related to English language, including working as a programme assistant in English communication at a university's residential college, a lecturer and tutor in tertiary-level English writing, and a research assistant in different creative writing projects. To pursue further on her writing journey, she decided to study a PhD in Creative Writing at The University of Queensland, Australia, after several years of very mundane work.
With her love of emotional subtleties in the everyday mundane, her PhD research investigates the everyday transcendence of food imagery in Pablo Neruda's Elemental Odes. She looks at how food in Neruda's Elemental Odes is not simply an inert object but a very unique layer of sensuousness of everyday life. Food in poetry, such as in Neruda's odes to salt, a large tuna in the market, and the lemon, for instance, is a kinetic agglomerate of intensities. In her research, she explores how food and poetry can be related in a very interesting way by using a phenomenological approach—the particular ways that our experience of food, including the taste, the cooking, the rituals, the preparation, the socialization involved, and the consumption, influence our pre-conceptual sensuous attunement to things.
Her first poetry collection, A Seed and a Plant, was shortlisted for The HKU International Poetry Prize 2010. Her recent poetry manuscript, Rabbit-Light, was awarded Highly Commended in the 2018 Arts Queensland Thomas Shapcott Poetry Prize. Her poem, "That Space", won a second place in the ESL category of the International Poetry Competition organized by the Oxford Brookes University in October 2016. Her other poem, "63 Temple Street, Mong Kok", was recently shortlisted for the 2018 Peter Porter Poetry Prize held by the Australia Book Review. Her poems also appeared in Meanjin, Overland, Mascara Literary Review, World Literature Today, Cha: An Asian Literary Journal, Taj Mahal Review, The Istanbul Review, and more. She was the recipient of the Playa Residency, Oregon, in 2014. She was awarded a Merit Scholarship at the New York State Summer Writers Institute in 2017.
Twitter: https://twitter.com/belle_linghc
Contest Won: Tom Howard/Margaret Reid Poetry Contest 2018, Honorable Mention, Margaret Reid