Beth Somerford
Filed under: Authors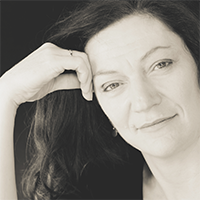 Beth Somerford grew up in Hampshire, England and currently lives in Brighton with her composer husband. She has four grown children.
Her poems have appeared in numerous publications, including Magma, Equinox, Obsessed with Pipework, Orbis, Iota, The Cannon's Mouth, the French Literary Review, The Interpreter's House, and Brittle Star.
She was first runner up in the Frogmore Prize in 2014 and has recently been shortlisted in a variety of competitions, including the 2017 Gregory O'Donoghue Prize.
Her pamphlet Messing with Endings and book Rhyme and Reason: The Poetry of Leadership (as alter ego Sam Chittenden) were published in 2014. See details on her website.
Twitter: https://twitter.com/bethsome
Website: http://www.bethsomerford.com/
Contest Won: Tom Howard/Margaret Reid Poetry Contest 2016, Honorable Mention, Margaret Reid