Debayani Kar
Filed under: Authors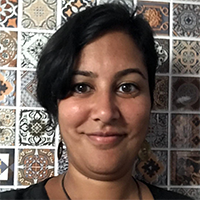 Debayani Kar is a cis, queer and South Asian writer, performer and storytelling strategist who makes her home between the US and India. Her family is originally from India and Bangladesh and she grew up in Knoxville, TN. Debi's recent artistic endeavors include writing and performing two full-length solo plays in New York with her Hussie performance project.

From 2015 to 2018, Debi was in the leadership of the New York-based YKR Collective, serving as co-director and cast member in YKR 2016 and cast member in YKR 2015. She has performed across New York and in San Francisco. Debi is at work on a short story collection about modern sex, love and romance, as well as a new play that will debut in Mumbai during the city's annual queer pride celebration in early 2020.

Debi also co-founded Resonance, a women of color-led progressive communications hub devoted to supporting frontline activists and strategic advocates committed to realizing equity and justice.
Contest Won: Tom Howard/John H. Reid Fiction & Essay Contest 2019, Honorable Mention