Deborah L. Davitt
Filed under: Authors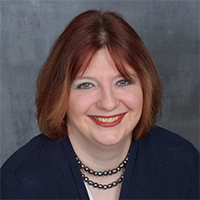 Deborah L. Davitt was raised in Reno, Nevada, where she graduated first in her class from UNR in 1997. While an undergraduate, she focused heavily on medieval and Renaissance literature from Beowulf to Shakespeare. She received her MA in English from Penn State, and later found work as a technical writer on projects ranging from nuclear ballistic missile submarines to NASA to computer manufacturing.
She currently lives in Houston, Texas, with her husband and son. Her poetry has received Pushcart, Rhysling, and Dwarf Star nominations and has appeared in over fifty journals including F&SF and Asimov's. Her short stories have appeared in Galaxy's Edge and Flame Tree anthologies. Her Edda-Earth novels are available through Amazon.
For more about her work, including her poetry collection, The Gates of Never, please visit her website and Facebook page.
Website: http://www.edda-earth.com
Twitter: http://twitter.com/davittDL
Contest Won: Wergle Flomp Humor Poetry Contest 2020, Honorable Mention