Dmitri Jackson
Filed under: Authors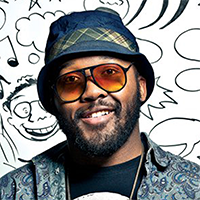 Dmitri Jackson is a graphic novelist, freelance illustrator and teacher based in Saint Louis, Missouri. His artwork has appeared in outlets such as the Riverfront Times, Curiosus Magazine, and St. Jude Children's Research Hospital.
His creative inspiration spans genres and media. Ben Passmore, Ralph Bakshi, Hunter S. Thompson, Spike Lee, Thelonious Monk, and "The Simpsons" are among Jackson's many influences.
For the past decade, Jackson has managed Frotoon Press, an independent publisher of personal comic narratives that explore music, politics, culture and identity. His idiosyncratic brand of storytelling has garnered him 11 Glyph Comics Award nominations and a 2019 National Indie Excellence Award for Comics & Graphic Novels. Jackson majored in art and design at Washington University in St. Louis, where he has also taught the art of comics.
Twitter: https://twitter.com/frotoonpress
Website: http://www.dmitrijackson.com/
Contest Won: North Street Book Prize 2019, First Prize