Blackwax Boulevard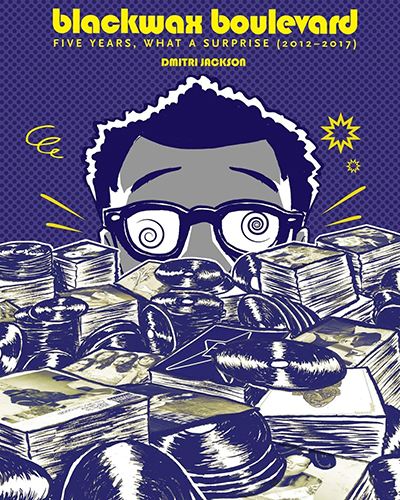 Critique by Jendi Reiter
Dmitri Jackson's Blackwax Boulevard: Five Years, What a Surprise (2012-2017) anthologizes the first five years of his webcomic about a struggling inner-city record store and the passionate misfits who call it home. It's an affectionate, visually snappy portrait of a found family united by music fandom, as well as a commentary on the varieties of black manhood and the downside of gentrification.
Our protagonist, Marsalis, is a defiant devotee of niche records, who often scares off Blackwax's customers by mocking their mainstream tastes. His overconfidence in his opinions is counterbalanced by his stuttering shyness around Salimah, the woman of his dreams, who is more interested in black activist/poseur Brother Rage. Marsalis and his gangsta-rap-loving brother Dexter rag each other mercilessly but their mutual loyalty is a solid foundation beneath the banter. Peg-legged metalhead Hardy, the store owner, has a gruff exterior but a soft heart for little Seung-Jin, the kid for whom Blackwax is a second home. Everyone looks out for each other despite their superficial culture clashes.
Blackwax was the graphic novel entry that most excelled at the visual storytelling element of comics. Each panel had dynamic movement. When the same character or scene was portrayed in a succession of panels, techniques like zooming in and out or exaggerated changes in facial expression kept the action flowing. The complex textures and shading made me forget it was only in black-and-white. The characters' appearances and speaking styles were distinct and memorable.
Readers should be prepared that there are occurrences of the N-word, generally in an affectionate slang context between black characters, and that the book is designated for an audience aged 15+.
For me, as a white reader with a different musical background, the book raised provocative questions of accessibility—for whom? Does every work of art have to be for a "general" audience (which has typically meant a white audience) or is it fine to assume your ideal reader is familiar with many R&B, soul, and rap artists? Though my lack of familiarity with some of this music meant the book felt too "insider" for me at times, that's my problem, not the author's. I'm glad of the opportunity to learn by eavesdropping on a conversation that isn't necessarily "for" me. Otherwise, with my steady Spotify rotation of Lana Del Rey and German Karneval music, how would I have discovered the awesomeness of Ludacris' "Chicken-N-Beer" album? Thanks, Dexter.
Marsalis was sometimes an unappealing character to follow, as he was an annoying mansplainer at times, and showed vulnerability only rather late in the game. A compilation of comic strips has the extra challenge of lacking a strong narrative arc. Here, the story ended with a shift in his romantic fortunes that made me want to see more. Is there a Blackwax II anthology in the works, I hope?
Read an excerpt from Blackwax Boulevard (PDF)