Donald Marbury
Filed under: Authors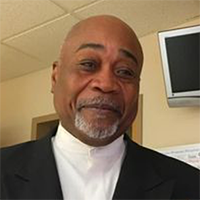 Reverend Donald L. Marbury is an ordained African Methodist Episcopal Church elder and currently serves as the senior pastor of Ebenezer AME Church in Hagerstown, MD. He had been for 11 years the senior pastor of Ebenezer AME Church in Brunswick, Maryland, and from 2000 to 2005 he was the senior pastor of St. John AME Church in Benedict, Maryland.
Marbury retired as an adjunct professor of reading, writing, and English at Montgomery College, Germantown in 2018 after 18 years, and he was also an adjunct professor, from 2001 until 2010, in the Radio, Television, Film and Video Department of the Howard University School of Communications, where he taught numerous, different courses in broadcasting. Marbury left a 27-year career in public broadcasting in 1997 to pursue his ministerial studies. He retired from the Corporation for Public Broadcasting (CPB), the parent company of the Public Broadcasting Service (PBS) as its Vice President of Domestic and International Programs. In that capacity, Marbury was responsible for the distribution and awarding of nearly $65 million a year in production funds to independent and station producers to create programs for the national PBS schedule.

His programming decisions brought scores of Emmys and Oscars to public television and gave starts to many then-fledgling producers who are now icons of the industry. In 1995, in a profile of his career, Broadcasting Magazine called him "one of the most powerful African-American men in television in America". A two-page profile of his decision to leave public broadcasting to enter the ministry, published in the "Style" section of the Washington Post in 1997, credited him with "setting the program direction of US Public Television over the last decade".
A 1971 honors graduate of the University of Pittsburgh with a BA degree in English, Marbury also is a cum laude graduate of Wesley Theological Seminary, having earned a master's degree in Divinity. He is a well known performance art poet whose work has been published and featured in many television and radio broadcasts, and who has performed his work throughout the nation and internationally. His poetic autobiography, My People, My People, My God was published by Kharis Publishing House in October of 2018 and was the 2019 third-place competition winner of the Fischer Prize for Poetry.
Twitter: https://twitter.com/underonesky
Website: https://www.facebook.com/donald.l.marbury
Contest Won: Tom Howard/John H. Reid Fiction & Essay Contest 2020, Honorable Mention