Gloria Taylor Weinberg
Filed under: Authors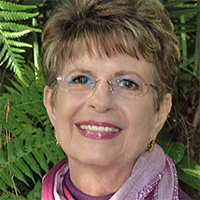 Gloria Taylor Weinberg is a fourth-generation Floridian who retired from a 22-year career as a journalist with the Fort Pierce Tribune in 2001, and now writes for Indian River Magazine, based in Fort Pierce, where she has lived for the past 47 years.
Gloria is a self-taught writer who joined the Tribune staff in 1978 as a newsroom clerk. She worked her way up through the ranks, holding a variety of positions, including photographer, reporter, columnist, Port St. Lucie Editor and Life Editor.
When she retired, Gloria was the Tribune's Projects Editor. She also wrote a Sunday column and a weekly feature called "Tributes", which told the life stories of recently deceased St. Lucie County residents. These stories celebrated the lives of everyday people who make up the bedrock of a community, rather than its "movers and shakers". The series won the Florida Society of Professional Journalists' first place award for excellence in 2000.
Gloria's Sunday columns won awards from the Florida Society of Newspaper Editors from 1996 to 1999. In 2000, she led the team of reporters and editors that earned the FSNE's first-place award for explanatory writing for a five-day series of stories on the Indian River Lagoon. Gloria wrote six of the 17 stories, as well as editing and organizing the series, which also took the FSNE's Gold Medal for Public Service. In addition, the river project won first place in 2000 for excellence in in-depth reporting from the Florida Society of Professional Journalists. She also won media awards of service from The Salvation Army, the Children's Home Society, the Hands of Love Group, the ARC of St. Lucie County, and in 2001, was awarded a Medallion of Excellence from Florida Senator Ken Pruitt.
Before she became a writer, Gloria spent seven years as a firearms instructor at Indian River Community College Police Academy in Fort Pierce while competing in state and US Regional Police Combat matches. She started out teaching a basic firearms familiarization course for women at IRCC, but within a year she was teaching law enforcement officers, security guards, jailers, and civilians. She was the academy's first firearms training coordinator.
Gloria's 72,000-word novel, A Homicide in Hooker's Point, is an account of life, love, and tragedy in a small Southern town in the late '40s and '50s. It earned a 2011 Royal Palm Literary Award from the Florida Writers Association, and was a 2013-14 Gold Medal winner from the Florida Authors & Publishers Association. It also won a five-star Reader's Favorite Gold Seal in 2014.
Child of Sorrow, her new novella, is the story of one 17-year-old's struggle to survive in a Jacksonville home for unwed mothers. Vicki Bayle is forced to surrender her child for adoption, but spends years surreptitiously trying to find him, all the while keeping her search, like her firstborn son, a secret.
And then one day she receives a call from Jacksonville that changes her life forever.
Child of Sorrow was a finalist for a 2013 Royal Palm Literary Award from the Florida Writers Association and won a five-star Reader's Favorite Gold Seal in 2013.
Gloria is married to Mark Weinberg, who retired in 2015 after 25 years as the public information officer for the St. Lucie County Sheriff's Office. Mark is a former journalist who worked in print, radio and television. They have been married for 29 years, and share their home with Tillie, a 16-pound bundle of joy, adopted from the Humane Society.
Gloria has three grown children, two of whom live in Fort Pierce. Lori Emerson is the practice manager for the Animal Emergency and Referral Center in Fort Pierce; Chief "Buddy" Emerson is the fire chief of the St. Lucie County Fire District; and Sherri Emerson, RN, MSN, is the chief operating officer of Texas Health Heart & Vascular Hospital in Arlington, Texas.
Gloria has seven grandchildren.
She also paints, with a particular love for capturing the flora, fauna and unique light of her native state on canvas.
Website: https://www.facebook.com/owlsrcute2
Contest Won: North Street Book Prize 2015, First Prize