Jerald Pope
Filed under: Authors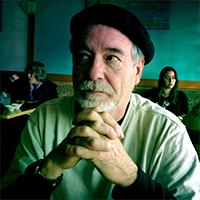 One of twenty-six children, when I fell off the rickety old pickup as we followed the Okie migration to Californ-i-ay, my absence was not—and still has not been—noticed. Luckily, the coyotes that found me had a bohemian bent. They taught me coyote aesthetics, the True American History, and cowboy cookery (how to cook a cowboy). Forced against my will to attend an Un-named Ivy League College, I double-majored in schmoozing and advanced mockery. Broken-hearted over graduating, I joined the Foreign Legion, fell in love with a series of impossibly exotic people, smuggled aphrodisiacs, Napoleonic-era artillery, and African cheeses, then settled down to write my memoirs—all before the age of twenty!
In other words... As an illustrator, writer, drawer, and painter, I enjoy creating two-dimensional symbols that clarify and amplify "reality" for both children and adults. Art can change hearts, change minds, change regimes, change the world. It's probably the only thing that ever has (a provocative statement? I don't think so.)
A Few True Facts/Search Engine Markers: Born in Stillwater, Oklahoma, not long after the Great War. Raised in Dewey, near Bartlesville, Oklahoma. Schooled at the University of Tulsa where I received a BFA in Painting. I then experienced a 20-year distraction as Artistic Director of American Theater Company. We did many plays, some of which are worthy of pride. I then stood in front of a rock and roll band for a few years where I gained lifelong tinnitus. Then it was off to Norfolk, Virginia, where I wrote and directed plays and managed the Virginia Wesleyan College Theater facility. I got a Master's degree from Old Dominion University. Re-married and be-daughtered, we shifted ground to Asheville, North Carolina, where I did some more theater, some adjunct teaching at Appalachian State, UNC-A, Warren Wilson College, and Montreat College. Living in Swannanoa, outside Black Mountain, I returned at last to illustrating, writing, and painting.
Find me on Instagram and Facebook.
Website: http://harebrandideas.com/
Winning Entry: Fetch
Contest Won: North Street Book Prize 2020, First Prize