Jim Zervanos
Filed under: Authors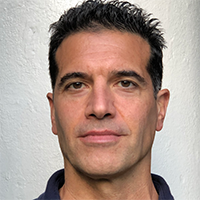 Jim Zervanos is the author of the novel LOVE Park, which Charles Baxter praised as "funny and moving", Philadelphia Magazine called "smart, insightful", and The Philadelphia Inquirer featured in a front-page story. He has finished two memoirs, That Time I Got Cancer: A Love Story and Your Story Starts Here (in which "Changing Your Mind" appears)—an intimate look at the world of Generation Z as it grapples with the issues of our time—all from the perspective of a teacher and father. Other essays from Your Story Starts Here have been published in English Journal and selected as finalists in the Fourth Genre Michael Steinberg Memorial Essay Contest and december magazine's 2020 Curt Johnson Prose Award in Nonfiction.
His fiction has appeared in Chicago Quarterly Review, Cimarron Review, Cream City Review, Hawaii Review, Green Mountains Review, Failbetter.com, and Philadelphia Stories, as well as the anthologies Philly Fiction and Philadelphia Noir. His stories have won the Folio annual fiction prize and been named runner-up for the Marguerite McGlinn National Short Story Award—contest judge Steve Almond called Communion "a brilliant, wrenching account of the secrets families keep". His collection Your Brother, Who Loves You was a finalist for the Hawk Mountain Book Award. His novel American Gyro was a finalist in the William Faulkner – William Wisdom Creative Writing Competition, the University of New Orleans Press Publishing Lab Prize, and the Failbetter.com novella contest.
He earned his MFA from Warren Wilson College, his BA and MA from Bucknell University, where he was winner of the William Bucknell Prize for English, an Academic-All-American baseball player, and Patriot League Scholar Athlete of the Year. He now teaches at Penncrest High School in the suburbs of Philadelphia, where he lives with his wife and two sons—and where he has risen in the baseball pantheon to coach of two Little League teams.
Website: http://www.jimzervanos.com/
Contest Won: Tom Howard/John H. Reid Fiction & Essay Contest 2020, Honorable Mention