Kayleb Rae Candrilli
Filed under: Authors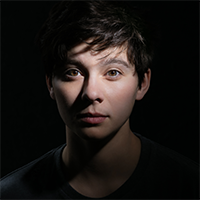 Kayleb Rae Candrilli is the recipient of a Whiting Award and a fellowship from the National Endowment for the Arts. They are the author of Water I Won't Touch, All the Gay Saints, and What Runs Over. All the Gay Saints was the winner of the 2019 Saturnalia book contest, selected by Natalie Diaz. What Runs Over was the 2016 winner of the Pamet River Prize, a finalist for the Lambda Literary Awards in Transgender Poetry, and a finalist for the 2018 American Book Fest's best book award in LGBTQ nonfiction.
Candrilli has been awarded residencies by Lambda Literary and Art Omi. They were also a 2017 recipient of a Leeway Art and Change Grant. Candrilli has served as the nonfiction editor of the Black Warrior Review, a feature editor for NANO Fiction, and an assistant poetry editor for Boaat Press. Kayleb is a Best of the Net Winner and has been nominated for Best New Poets, as well as for Pushcart Prizes.
Candrilli earned an MA in Creative Writing from The Pennsylvania State University, and they hold both an MFA and an MLIS degree from the University of Alabama. Their work is published or forthcoming in POETRY, American Poetry Review, Academy of American Poets, TriQuarterly, Boston Review, and others. They live in Philadelphia with their partner. You can read more of Candrilli's work here.
Photo by Beowulf Sheehan, 2019
Website: https://www.krcandrilli.com/
Contest Won: Tom Howard/Margaret Reid Poetry Contest 2020, First Prize, Margaret Reid