Latorial Faison
Filed under: Authors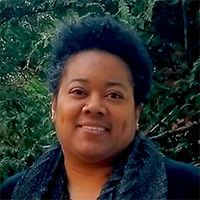 Latorial Faison was born and raised in rural Southampton County, VA. A military wife, mother, and educator, Faison attended the University of Virginia in Charlottesville and completed graduate studies in English at Virginia Tech in Blacksburg, VA. Over the years, Faison has nurtured her passion for writing by continuing to write about what moves her and by collaborating online and off with artists via collectives like The Watering Hole, which serves as a Harlem Renaissance or tribal space for colored writers in the South. Her poetry has been published in Ethiopia, South Africa, India, Canada, South Korea, and Japan, and Faison has spent the last eighteen years promoting poetry and creative writing in local schools and organizations.
Her work has appeared in various literary publications, anthologies, and collaborations, including Obsidian: Literature in the African Diaspora (NC State University), Kalyani Magazine, Mandala Journal (University of Georgia), Chickenbones, The Chattahoochee Review (Georgia State University's Perimeter College), Blackberry: a magazine, Southern Women's Review, About Place Journal (Black Earth Institute), Poetry Quarterly, Electronic Corpse: Poems from a Digital Salon (edited by M. Ayodele Heath), Deep South Magazine, Keeping the Faith (an NAACP award winner, edited by Tavis Smiley), and Three Minus One edited by Sean Hanish and Brooke Warner and inspired by the film Return to Zero.
Faison, a member of The Poetry Society of Virginia, is the author of several poetry books, including Mother to Son, 28 Days of Poetry Celebrating Black History, Love Poems, Secrets of My Soul, Immaculate Perceptions, and the children's book, Kendall's Golf Lesson. Her poems have been adapted for stage performances, used in short films and romance novels, and are being utilized in school curriculums throughout the US. Faison currently resides in Virginia with her family and teaches at Virginia State University.
Website: http://www.latorialfaison.com/
Twitter: https://twitter.com/latorialfaison
Contest Won: Tom Howard/Margaret Reid Poetry Contest 2018, First Prize, Tom Howard