Laurel Blossom
Filed under: Authors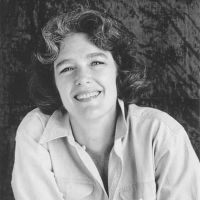 Laurel Blossom's most recent book of poetry is The Papers Said (Greenhouse Review Press, 1993). Earlier books include What's Wrong (Cobham & Hatherton Press, 1987) and Any Minute (Greenhouse Review Press, 1979). Her work has appeared in a number of anthologies, and in national journals including Poetry, The American Poetry Review, Pequod, The Paris Review, The Carolina Quarterly, Deadsnake Apotheosis, Many Mountains Moving and others. She recently completed a book-length poem, "Degrees of Latitude", the first in a projected trilogy.

Blossom is the editor of Splash! Great Writing About Swimming (Ecco Press, 1996) and Many Lights in Many Windows: Twenty Years of Great Fiction and Poetry from The Writers Community (Milkweed Editions, 1997).

Blossom has received fellowships from the National Endowment for the Arts, the New York Foundation for the Arts, the Ohio Arts Council, the Atlantic Center for the Arts and the Squaw Valley Community of Writers. She also received a scholarship at the Bread Loaf Writers' Conference and a residency at Yaddo. She serves on the Board of Regents of Harris Manchester College, Oxford University, where she holds a Foundation Fellowship. She co-founded The Writers Community, an esteemed writing residency and workshop program, and serves as chair of the Writers Community Committee of the YMCA National Writer's Voice.
Website: http://www.laurelblossom.com/
Contest Won: War Poetry Contest 2002, Honorable Mention