Li Mo
Filed under: Authors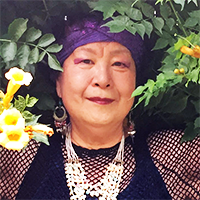 I grew up with spirits of the ancestors, the trees, stones, ponds, moving waters, clouds, birds, beasts of all kinds, earthly ones like water buffaloes, pigs, cranes, rabbits, monkeys and imaginary ones like dragons, phoenixes, unicorns and angels; even insects possessed spirits. And the dead's spirits intrigue me the most, their bones were like shapes of Chinese writing, the best "grass style" calligraphy expressed not just the meaning but the spirit and breath of poetic expression. I never wanted to express myself in writing. I prefered singing, dancing and sculpting with clay. To express the moving spirits in words was too difficult for me. I failed school year after year in Hong Kong and then in Taipei. My life story is intrinsically part of the consequences of war and traumas of survivors. My mother had moved us from one ghetto to another searching for a safe harbor. After 8 years of travel, when I was 13 we settled in the Lower East Side of New York City. Learning English was liberating because I found it a freeing language compared to Chinese which depends on ancient idioms mixed with colloquial. But I don't think in any language because my mind is a camera that takes in visuals and the invisible spirits.
My mother is still the fire-keeper in my life for giving me the gift of singing and reading. Poetry and songs keep death at bay and cradle my soul. Stories with ancient sources of enchantments nourish my everyday with wisdom, like being nourished by bread and water. Singing connects me with spirits and angels of blessing and forgiveness. Classical Chinese poetry and long narratives delivered with music were my earliest inspiration connecting me with literature. Writing came late to me, my childhood traumas had suppressed my voice. After failing school year after year my mother, a famous Chinese journalist, home-schooled me but conventional tutoring didn't help me to read or write. Finally my mother taught me to sing classical poems and narrative stories. Music opened the gates of language for me. At the age of 11, my mother gave me a gift, I was rewarded with a copy of Arabian Nights and fairy tales by Hans Christian Andersen, all translated into Chinese. My lonely nights became journeys of enchantment. Books were my mother's treasured possessions when our pantry was empty and all other resources lacking. Russian novels translated into Chinese awakened me to the universality of human struggles and suffering.
I didn't start writing in earnest until I was in my early 30s. Back then literary pursuit was the last thing I wanted to engage with, although writing poetry allowed sporadic moments of cathartic release. But I was mostly immersed in storytelling, trying to find grounding in the oral tradition. Writing was especially hard for my dyslexic mind. Putting my thoughts in an orderly manner, dealing with grammar and the methodical ways of writing was an uphill battle. Luckily I was accepted to be an MFA candidate at Emerson College in my late 40s. Learning how to read deeply helped me to write my own stories. I began writing Spirit Bridges during those years studying for my masters degree. It started as an essay, "A Journey in Search of My Voice", eventually becoming a memoir. I worked on it for 17 years because going back through the traumas of my early years was an excruciating experience. Like a cat with 9 lives, I am grateful for the ordeal because Spirit Bridges are stepping stones, they helped me trust and grow to become wiser and more resilient.
Li Mo is a pen name of Limin Mo.
Website: http://www.liminmo.com/
Contest Won: North Street Book Prize 2019, First Prize