Madeline Cole
Filed under: Authors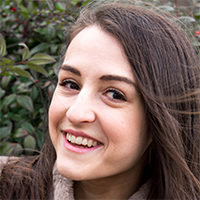 Madeline Cole was born in Seattle, WA, and raised in Santa Cruz, CA. An insatiable reader with a drive to learn more, she went on to attend Bennington College in Vermont, where she received her B.A. in Literature in 2016. She wrote her senior thesis on Tolstoy's War and Peace, which proposed a critical re-examination of the epic novel's structure.
She began writing poetry in grade school, and had her first poem published in a children's anthology, a line-for-line rewrite of Robert Frost's "Stopping by Woods on a Snowy Evening". Her writing practice was honed and shaped at Bennington College, where she studied poetry with Michael Dumanis and Mark Wunderlich, among others. A multi-disciplinary student, her poetry has been informed by other subjects, most notably history. Silo, the Bennington student journal, published two of her poems in 2016.

Cole currently resides in Fulton, CA, and works remotely for Bennington College's Office of Communications as the Digital Communications Manager.
Twitter: https://twitter.com/madelinescole
Winning Entry: Elegies
Contest Won: Tom Howard/Margaret Reid Poetry Contest 2019, Honorable Mention, Tom Howard