Margaux Griffith
Filed under: Authors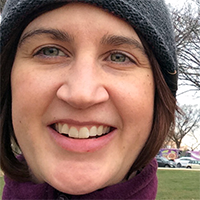 Margaux Griffith, a born and raised Okie, earned an MFA in Poetry at Oklahoma State University. She has a wide range of interests and skills. She began college as a musical theatre major having many years of formal training. Griffith also became absorbed in photography. Like various GenXers, she bounced around multiple colleges and universities, collecting lots of new talents and debt! Subsequently, she offset educational costs by working as a chef in Ann Arbor, MI where she moved to on a whim at 19 years old.
She won the 2012 Anderbo Poetry Prize for her poem "Apple Galette" as well as the 2015 Blue Bonnet Poetry Prize for her poem "Routine". She was a semi-finalist for the 2017 Grist Pro Forma Contest. Most recently, Griffith won third place in the Tucson Festival of Books Award 2019. She has publications in The Boiler Journal, The Citron Review, Bacopa Literary Review, The Cossack, The Laurel Review, Rathalla Review, The Fourth River, Third Coast, and Hot Metal Bridge.
Her current collection of poems uses the backdrop of a simple fruit (apples) as an arching metaphor to delve into the impact of domestic violence and family trauma. From planting to gathering, to production of the apples whether whole, covered in caramel, or manipulated into pies or pressed into juice—each represent the variations of tension, violence, and lyricism within the entire collection.
Winning Entry: Balance
Contest Won: Tom Howard/Margaret Reid Poetry Contest 2019, Honorable Mention, Tom Howard