Michael Fredson
Filed under: Authors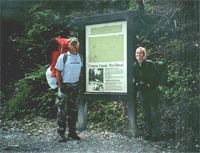 I am a disabled veteran who served in Tay Ninh, Vietnam 1969-70. I have a BA from Central Washington University and I received an MFA from the University of Arizona in 1978. I published poems in magazines and anthologies two decades ago. I have served as president of the Mason County Historical Society for the past 10 years and have written several books of local history, including Hood Canal (2007) and Beastman (2002).

Most of my career was spent building houses as owner/builder of Fredson Homes. I have also taught writing classes at South Puget Sound Community College in Olympia, WA. Lindy, my wife of 35 years, and I have two grown children and one delightful grandson with another one on the way. We are happy to live on a corner of the beautiful Olympic Peninsula on Hood Canal. Hiking in the Olympics is one of my greatest joys.

The attached photo is of me and my daughter, Mya at the beginning of a 50 miler through the Olympics in 2007.
Contest Won: War Poetry Contest 2008, Honorable Mention