Patricia Schultheis
Filed under: Authors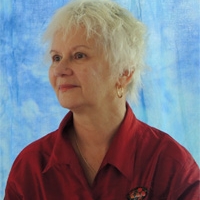 Patricia Schultheis has had several essays and nearly two dozen short stories published in national and international literary journals. Her pictorial local history, Baltimore's Lexington Market, was published by Arcadia Publishing of South Carolina in 2007, and her collection of short stories about a fictional street in Baltimore named St. Bart's Way was a finalist for the 2008 Flannery O'Connor Award and Snake Nation Press awards. In 2010 her short story "Downward Drifting" was included in an anthology of Baltimore writers, and she was a fellow at the Virginia Center for the Creative Arts. She has served on the editorial boards of The Baltimore Review and Narrative Magazine, and is a member of The Authors Guild and a voting member of The National Book Critics Circle. "Skating to Seventy" is excerpted from a full-length memoir she is currently writing.

Patricia began writing late in the '70's, when she started submitting op-ed essays to the now-defunct Baltimore Evening Sun. Some of these pieces dealt with topical issues such as the Reagan budget cuts, but many focused on matters closer to the heart. At the same time she began writing freelance articles for magazines and newspapers. These articles soon eclipsed her essays, and she continued writing straight journalism and features until the late '90's, when she turned her attention toward fiction. When she was accepted by the Bread Loaf Writers Conference on the strength of the fourth story she had ever written (which was subsequently published in The Distillery) she decided to focus on fiction, with the occasional book review and essay.

In addition to her writing career, Patricia has held several full-time positions. After teaching ninth-grade English for two years, she stayed at home for seven years to raise her sons, and then returned to the job market. Beginning as a copyholder in a type house, she worked her way up to a proofreader position at a printer, then to a production manager at a magazine, next to a researcher for a television program and then for a magazine now known as Kiplinger's Personal Finance. She next had positions in public relations at the University of Maryland and the Community College at Baltimore. Her last full-time position was with Skills Bank, a developer of educational software. She then held a series of adjunct teaching positions at Prince George's, Howard and Baltimore County community colleges in Maryland as well as at McDaniel College.

Patricia holds two graduate degrees from Johns Hopkins University and an undergraduate degree from Albertus Magnus College. She is a widow and has two grown sons.
Contest Won: Sports Fiction & Essay Contest 2013, First Prize