A Friendship Forever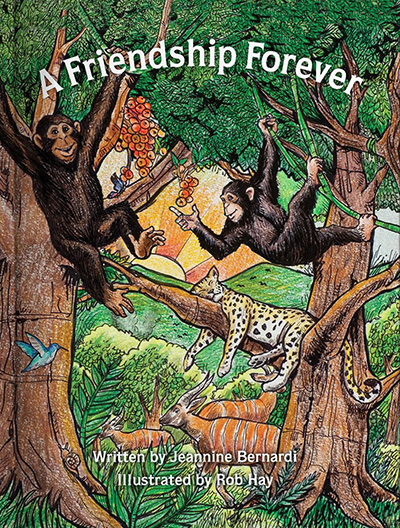 Critique by Ellen LaFleche
Jeannine Bernardi's picture book A Friendship Forever, illustrated by Rob Hay, focuses on the joyous friendship between two chimpanzees in their natural rainforest environment. Human interventions are causing sickness and deforestation. Neo goes missing, and Ayo must cope with the loss of his best friend. A compassionate elder chimp helps Ayo come to terms with his grief.
Both judges agreed that this heartfelt, beautifully illustrated book deserved top prize in its category. The adventures of Ayo and Neo are told in rhyming couplets that contain a perfect mixture of new and familiar words for younger children. The beautiful illustrations and clever rhymes work in synch to help children through the scariest parts of the story.
This book is a good tool to help children process the loss of a pet or human loved one. In fact, the author was inspired to write the book after watching her children struggle to grieve the death of a six-year-old friend. (See this article for details.) Half of the proceeds from book sales go to a children's charity.
The rhyming couplets are lovely, but don't always scan well. This may be more of a problem for the adults reading the book aloud than for child listeners. A sample couplet:
"After their bellies are nice and fat,
they swing through the trees like acrobats.
Forward, backward, upside down—
the giant forest is their own playground. "
The cover is visually inviting and the author seems to have done her research on the rainforest. I fact-checked a few details; for example, do primates eat figs? Yes, primates like Ayo and Neo sometimes eat figs. The grammar and spelling were error-free. (We were surprised to find that many entrants in the children's book category were marred by multiple errors in spelling, punctuation, or grammar, a grievous mistake in books for early readers.)
A concern is the fact that Neo disappears without a trace. There is no definitive death. Perhaps some younger children might nervously ask where he is. During my first read-through, I wondered if he had been captured by poachers or zookeepers. Questions about what happened to Neo might be tricky for the adult reader to answer, so I would recommend that adults read the book to themselves beforehand and think about how to address any questions the listeners might ask.
I congratulate the author and illustrator on this achievement, and applaud them for their charitable fundraising.
Read an excerpt from A Friendship Forever.