Jeannine Bernardi
Filed under: Authors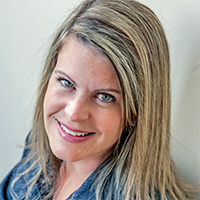 Jeannine Bernardi always enjoyed writing while growing up in upstate New York. Her journey began in fourth grade when she would peel off into the closet of her classroom to create stories, plays, and skits—which occasionally were performed on the school stage.
Jeannine continued to write throughout middle school, which she describes as the most vulnerable, self-critical, and judgmental time in her life. She is quoted as saying, "Writing became my way to process fear, confusion, anxiety, and uncertainty—it became my form of therapy." She documents this in her blog post "The Healing Powers of Literacy".
Her passion for poetry continued to Springfield College. It was there that she took courses in creative writing and published several pieces. After graduating with a biology degree, Jeannine continued her education and received her degree in nursing.
Jeannine lives in Colorado with her wonderful husband and three fantastic children. Four years ago, her family endured the loss of Trey McCleery, a six-year-old boy who was a family friend, neighbor, and teammate. As a way to honor Trey, process her own grief, and help guide children through theirs, Jeannine wrote A Friendship Forever. Jeannine's goal is to get her story into the hands of children who have experienced any type of loss. She is quoted as saying, "Loss comes in many forms, not just as the result of death. Children often grieve their parent's divorce, an absent parent, a best friend moving, etc."
This summer A Friendship Forever was awarded Book of the Year by Creative Child Magazine.
Jeannine is a member of SCBWI and Lighthouse Writers. She continues to write full-time and looks forward to bringing her current manuscripts to print.
Website: https://fivepathspublishing.com/
Twitter: https://twitter.com/jeannineb5
Contest Won: North Street Book Prize 2018, First Prize