Ah, Devon Unbowed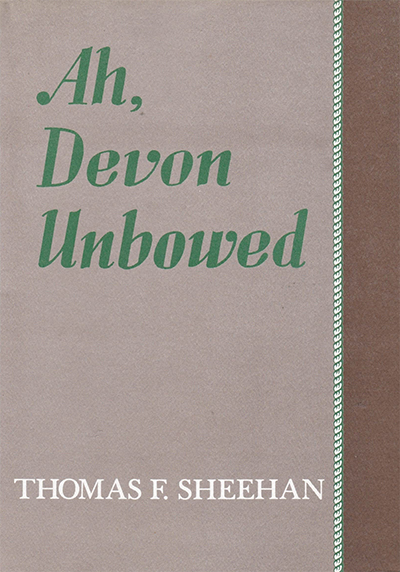 Critique by Jendi Reiter
Thomas F. Sheehan is our first repeat North Street winner with Ah, Devon Unbowed, a poetry collection suffused with the stoic and largely unspoken tenderness that men feel for their fathers, brothers, and sons. This reflective book, released in 1979, is voiced by a man who feels himself to be in the autumn of his life. As he shepherds his elderly father through blindness, decline, and death, the narrator meanwhile reckons with a more bittersweet kind of loss, watching his son grow up and away from him.
In Sheehan's poems, these cycles are natural and unspoiled by any resentment. Though it's painful at times, the speaker is reverently grateful for this glimpse into the mysteries of time and love. Something cosmic is at work here, a pattern that links him to other fathers and sons throughout history. The bereavement loses its edge because he sees that on some level, as T.S. Eliot wrote in Four Quartets, "all time is eternally present."
Writing these poems is another way he reverses time's erasure. "Gramps" lives again in the poem that opens the collection, a first-generation Irish immigrant who
…bent his back in Pennsylvania's mines
And Illinois' and swung a hammer north
Of Boston, poled his star-lit way
From Erie by canal, and died in bed.
Through his stylistic choice here, Sheehan wants us to know that this man and millions like him deserve the same blank-verse elegy as Shakespeare's kings. This stately diction has fallen out of fashion in a poetry world influenced by the fragmentary thoughts and freewheeling punctuation of the social media "voice". Did Sheehan come onto the scene too late to be acclaimed like his aesthetic soulmates Robert Frost and Philip Levine?
The telescoping of time reaches maximum impact in the visionary poem "Thomas, Thomas", in which the narrator watches his seven-year-old son's imaginative play outdoors. In that moment, the speaker is simultaneously himself as father of a young child; his childhood self, re-living his wonder in re-enacting stories of King Arthur and Beowulf; and his father, whose love for him he now understands first-hand.
It's back in the prehistory of dreams and daring
When I was him and building a fort to house dreams
And perhaps my father loved me from a window.
This epiphany is too fleeting and exquisite to be spoken in the moment, for fear of making the child self-conscious. Instead, Sheehan has to leave this poem for his son to read, when he in turn reaches the age of looking back on lost innocence.
In the book's final long poem, Sheehan widens his lens beyond his immediate family, to his Irish ancestor who participated in the 1916 Easter Rising against British rule. The imagery is stunning and physically vivid as the speaker reconstructs what the titular Devon might have thought and felt on his last night on earth. He too is still alive, not in chronos but in kairos, the sacred time-beyond-time that poetry can reach.
I have heard him in the cratered hell of Korea
and the dark of Cleveland
and in Providence falling down a hill
and in the big railyards of Chicago
as I swept away from a troop train
looking for a Budweiser
and sober as hell on a March morning…

…How can I know he does not pass
barefoot in the shining grass.
I got the gist of this poem by the end, but there were too many references to named characters who were unfamiliar to me, and it wasn't clear how they were related to Devon or Tom Sheehan. I kept thinking, "Should I know who this is? Am I missing the historical allusions?" An afterword would have helped.
My co-judge Ellen LaFleche said, "Especially strong was his suite of poems about his father going blind. Metaphorically mind-blowing, with heart-rending realism. This writer is just brilliant."
Ellen added, "I do have one major quibble—the poems are 99 percent focused on males. This is unfortunate as this poet has a strong focus and appreciation for working-class issues. He has one poem about his daughter but the focus turns to his son by the second stanza. A very brief mention of his wife in another poem. This book was copyrighted in 1979—a time when women were saying 'Hello! We exist. We need inclusion.' I don't understand how he missed this huge social shift given his brilliant skills at exploring family and small-town life."
I should like to see what the now 95-year-old author is writing, if he has continued with poetry. What does family life look like to him in 2023? Keep writing, Tom!
Please enjoy a free download of Ah, Devon Unbowed for your private enjoyment (PDF)