An Exaltation of Larks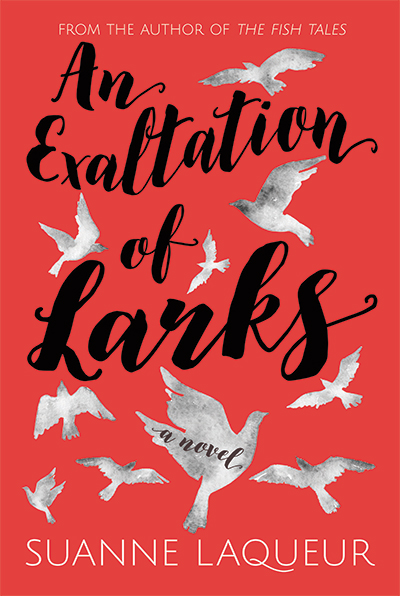 Critique by Jendi Reiter
A family saga centered on a bisexual love triangle, Suanne Laqueur's An Exaltation of Larks took me on a nostalgic trip back to the peak publishing years of the epic popular novel—those generation-spanning tales by authors like Howard Fast, Belva Plain, and Colleen McCullough that were ideal for mini-series adaptation in the 1970s-80s. This memory got me thinking about how book-publishing trends are driven by the narrative structure of more lucrative or high-profile media, in a way that unfairly constrains novelists' artistic choices. As the TV mini-series ceded ground to Hollywood movies, popular fiction simplified its cast of characters and honed in on a single climactic action instead of the patterns of a lifetime. "Doorstop" books like The Thorn Birds seem rarer today. Perhaps that's why an ambitious yet accessible novel like Exaltation required a non-traditional publishing path.
Laqueur's story traces the intertwined fates of Alex, a young refugee from the 1973 coup in Chile; Val, the daughter of a benevolent doctor in an idyllic small town in upstate New York; and Javier, an aspiring writer who supports himself as an escort to wealthy women. Jav was violently disowned by his Dominican-American family when they spied a moment of homoerotic connection between Jav and his male cousin. These three characters are thrown together by fate, or coincidence, again and again over a 30-year period, as each experiences attraction to both of the others. In midlife they even become a sort of family unit, but secrets about these past erotic encounters threaten to shatter their bond.
Two "9/11" events frame their story: the U.S.-backed coup on September 11, 1973 that replaced Chile's socialist president Salvador Allende with the dictator Auguste Pinochet, and the World Trade Center attack in 2001. Alex's parents are among the many people "disappeared" by the regime, while Jav loses a loved one in the plane crash. Despite these references, Exaltation wasn't really a political book, more of an exploration of how people find a new family and home base after traumatic displacement.
For me the strength of this book was the characters' rich inner lives—their yearning for love and their devotion to one another, and the men's vulnerability as they overcame the taboo of same-sex attraction. There were not enough books in the contest where I genuinely felt something for the characters. This was one of them. Halfway through the novel, I was putting the sequels on my Goodreads wishlist. I also appreciated learning about the efforts to bring justice and closure to families of Chile's desaparecidos, the tens of thousands who were killed or exiled under Pinochet.
Ellen and I had the longest debates about this entry. While I don't disagree with most of her criticism, these issues ultimately didn't mean as much to me. I was completely absorbed in Jav's story, but Ellen and I did both feel that it was a structural mistake to interrupt Alex's narrative arc for over 100 pages and only show his PTSD reactions to the second 9/11 in retrospect. We were less interested in the teen romance between Jav's nephew and Alex's and Val's daughter, and thought this storyline could have been saved for another book.
Certain plot devices recurred too often for us. A half-dozen incidents of sudden violent death or near-fatal injury of family members was too many. It became predictable that some character would be axed to throw Alex, Val, or Jav together into another pairing. Alex going from being Val's foster brother to her boyfriend was too similar to Jav's attraction to his male cousin, not to mention a later plot twist that we won't spoil.
Ellen also noted that it was potentially stereotypical to make Jav's Hispanic family so uniformly homophobic and macho, while Val's white family is a model of sexual progressiveness. In the opening scenes in Chile, young Alex plays a game with his father where they memorize the plural nouns for different animal species: a murder of crows, a pride of lions, an exaltation of larks, and so forth. We were unsure whether the linguistic conceit behind the book title would actually work in the Spanish language. Once again let us recommend getting a sensitivity reader for topics outside your cultural background.
Set aside a few hours to lose yourself in this book, and have some tissues ready for the sad parts—and a fan to cool yourself during the sex scenes!
Read an excerpt from An Exaltation of Larks (PDF)
Buy An Exaltation of Larks from the author's website or on Amazon