Blood Ties
Illustration by Carina Guevara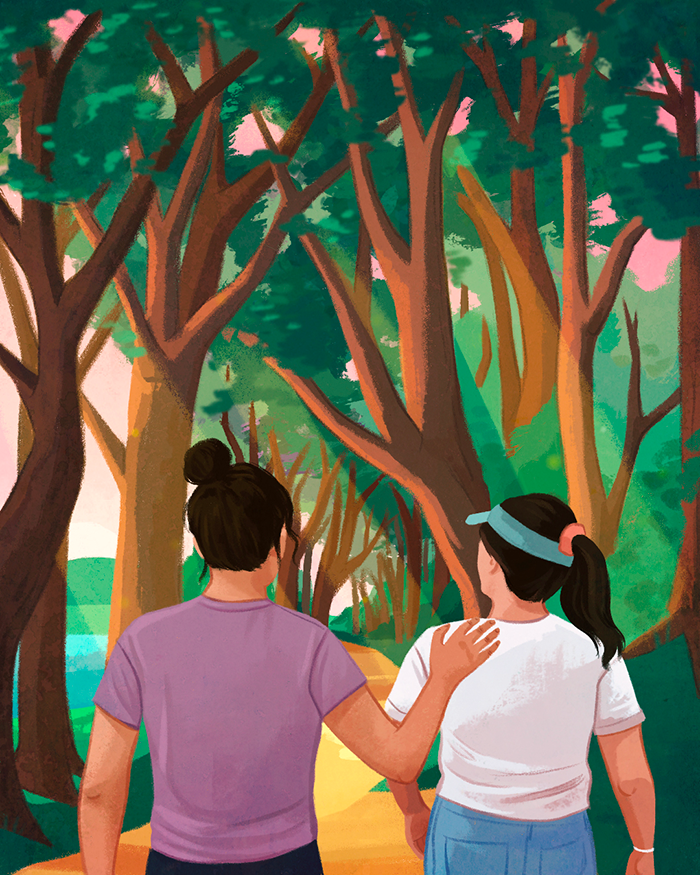 Jade would have chosen the diner, but her mother insisted on Red Lobster—the fanciest place around, even if highway noise overtakes Kelly Clarkson every time the door opens. The host sets down menus laminated with outsized images of shrimp: skewered, cocktailed, stuffed. AC pools around Jade's ankles. She opens the menu, closes it, asks for a hot tea. No matter the occasion she's always early, as if that will prevent surprise or at least help her be ready as it unfolds.
When the host brings the tea, Jade's mother is trailing him. "Hello sweetie!"
"Hi Mom."
"Aren't you excited?" Estelle slides into the booth. She's wearing too much makeup, and one side of her hair is flat. But her orange dress is unwrinkled and her eyes are clear. Not bad for Estelle on a Sunday.
"Well, I am," Estelle says. "We waited for this."
You waited. "Actually—"
But now her mother's eyes are on the woman walking toward them. Estelle gets up, arms wide. Without thinking, Jade stands too. Her throat tightens and her eyes fill.
Soon they will sit. They will order—a chef salad, a turkey club, and stuffed shrimp with a martini. They'll begin to talk and to search each other for likenesses. But what Jade will remember: when her eyes cleared and Sarah stood there, smaller than her or Estelle but bearing the same genetic stamp. Dark hair, hazel eyes, narrow face. Pure Thibideau. "Sorry I was late. I'm usually early," Sarah said, and Jade felt recognition—love—rise and resettle in a place she hadn't known was there.
•
Thursday morning, and they're on a bench by the river. Hawks float on the updraft.
"It wasn't that hard once I decided to try to find you guys," Sarah says. She presses on her capris until the creases line up. Emotion tugs at her mouth. "My mom keeps good records."
In less than a minute, she's gone from laughing to tearful. Jade feels for her. It's only been four days— there's a lot to absorb. She considers putting a hand on the pointy kneecap that looks a lot like hers but holds back.
Estelle didn't come. She called at the last minute to say she had a migraine. Jade was upset—it was supposed to be the three of them—but now in the sun with Sarah she feels alright. On warm mornings mist drifts here from the falls. It left an egg smell in your hair when Jade was growing up. The Mallagontic is cleaner now. Still, she was glad the mist had burned off before Sarah pulled in. Early.
"It's so beautiful," Sarah says. "The way the river cuts between the hills and everything."
Jade smiles. Apart from two years she spent studying education at the University of Maine before marrying Dean, she's never lived anywhere but Great Falls and never wanted to. She likes raising her kids in the same place she grew up.
"Pretty bracelet," she tells Sarah. The circle of small zirconiums catches the light. Spectrums bounce from the walkway to the tops of their feet.
"Thanks. My husband gave it to me after our daughter was born." Sarah lifts her wrist. "I like it even though I don't play tennis."
Jade doesn't know what she means. "What's your daughter's name again?"
"Charlotte. She's three." Sarah lifts a shoulder, hesitates. "I was thinking—maybe you could come down to Somers, all of you, if you want. Are you around next Sunday?"
Sundays are Mass and a get-together with Dean's family. Also the day they usually clean the chicken coop. But— "I think that might work," Jade says.
She likes this, walking the path to Falls Park with Sarah, talking about the river and their kids. Near the falls, the Mallagontic picks up speed. Water rolls over rocks and rises into standing waves. A fisherman wades into an eddy, casting for salmon that rest here after swimming up the falls. Fish are running again after decades with none.
Sarah raises her voice over the rushing sound. "Wow, what a great resource."
Jade grew up thinking of the river in practical terms: as a conduit that floated logs into canals on the mill's upstream side and carried wastewater downstream. Dean was still a journeyman when the Number Three closed. Master welders found work an hour away at Bath Iron Works, but he waited for his machine to come back up. When it didn't, he took a sales job at Porteous Chevrolet.
Now she sees the Mallagontic through Sarah's eyes: a place for recreation. The upside of machine shutdowns. Maybe she and Dean should bring the kids here for a picnic.
The sun is intense. Jade feels warmer than she has in months. She may be tan tonight—Sarah's face has color already. She lengthens her stride, inhales. A great walk.
She doesn't see the dog until it's almost upon them—a Shepherd mix bounding around the corner. Adolescent, barely in control of his limbs. She braces for the inevitable greeting. "He's full of—" she says, but the dog has gone toward Sarah, who's turning away.
When he jumps up, Sarah shrieks, which excites him even more. He jumps again, puts his paws on her shoulders and barks. Sarah sinks into the grass. The dog bends down to investigate.
"Get him away!" she cries.
Jade grabs the Shepherd's collar and tugs, but then a woman is wrapping her arms around him. "Off, Kirby!" she says, and the dog obeys.
"I'm so sorry, we're working on his manners." The woman helps Sarah up. Only when she steps back does Jade recognize her as someone she went to high school with.
"You're—"
"Andrea Neals."
"Right. Jade Pellerin, hi."
Sarah eyes the dog. "Should he be loose?"
Andrea looks at Sarah then back at Jade. Should she introduce them? Andrea leashes the Shepherd. "Sorry."
"Thanks, he really frightened me."
Sarah's eyes are puffy; she wraps her arms around her waist. Jade's put off by her reaction. After Andrea and the dog leave, it's quiet. The stakes feel high. Jade decides to lie, to preserve possibility. She says, "He was really scary."
"It's alright," or "It's so hard." Jade isn't sure what Sarah said.
•
She was eleven when she learned about the baby Estelle had given up. Her mother and Mike were out on the porch. Jade crouched inside by the screen door.
She often came back downstairs after bedtime. She'd huddle there, listening to their talk and the spurt of flip-tops. It was steadying. During the day Estelle's edge was as much a part of the house as the drone of A&E and the peanut butter left out on the counter. At night she changed. She'd joke a little, tell stories.
Mike's voice: "Do you think about her?"
Jade's heart pumped against her thigh. Were they talking about her?
"Christmases, her birthday." A pause— "There was no way to do right by her."
Jade knew Estelle was different from other moms, like parenting was something she had to put up with. But she was young and pretty, and Jade felt proud when Estelle dressed up to go out with Mike. Still—there was no truth and too much truth in what she'd said. Jade pushed through the door. "What do you mean, you can't do right by me?"
"I'm not talking about you, Jade Marie." Estelle pointed to a chair. "Sit."
The baby was conceived when Jade was two, right before her father and Estelle separated and he moved south. Estelle reclaimed her maiden name and got a part-time job at 7-Eleven. The baby was given up to Catholic Charities. People from Portland adopted her.
"Why didn't you keep her?"
"I could barely take care of you."
The wind raised goosebumps on Jade's legs. "What's her name?"
"Sarah," Estelle said. "Go back upstairs now. I've told you what I know."
It was all Jade wanted to know. Thinking about the baby made her uneasy, as if her own place was uncertain. She liked Mike, but he wasn't her dad. She hadn't seen her father in four years. Now she had a sister, but not really.
For fifteen years, when thoughts of Sarah entered her mind she had put them aside. Curiosity meant you had to be ready for what you'd find. Then two weeks ago, Estelle had called to say Sarah wanted to meet them. We should, for her sake, Estelle said. Jade didn't really believe that—Estelle seldom did things only for others, and if motherhood had ever inconvenienced her, it did so only mildly. For Estelle to meet, she had to want to. Jade would have left it alone. She had Dean and Mia and Tyson now. She'd planned to tell them—someday.
•
"So how did it really go?" Dean asks in bed that night. At dinner Jade had filled him and the kids in about her time with Sarah—the good parts. Not the dog. Or Sarah's upset, and that Jade thought it an overreaction. Or that Sarah, as if sensing how Jade had felt, texted later to explain a dog had bitten her when she was young.
Dean's on his side, wearing his I'm-listening face. She touches his hand. "It was good overall," she says. "You know. I'm still sorting things out."
"Thanks be to Estelle for that," Dean says.
Jade laughs, "Yeah," but feels a pang. Dean's family is large and regular. Parents who've been together 30 years, three siblings. His sister Brenda married a right-winger, but everyone else is laid-back. Sometimes the gatherings get old in their sameness—another cousin's birthday, another round of hamburgers—but they're also reassuring. Life proceeds predictably in the Pellerin clan. It's part of what drew her to Dean. Her own family is small and complicated. And now Sarah.
If Jade's not going to talk, Dean will. He starts with Porteous's preparations for its Fourth of July sale. The team wants to unload all the used Cruzes and feature the new Silverado—29 grand, but they'll trim the margin and let them go for 27—and park a line of Sonics out front, alternating red and blue. "With white balloons tied to their—" He nudges her. "Are you listening?"
"She wants us to visit her in Somers."
"She does?"
"Next Sunday. They have a pool."
"Is she rich? She must be rich if they live in Somers."
"I don't know." Irritation laps at Jade. He sounds kind of simple when he talks like that. "I think I might want to go."
"But the coop—"
"I know."
Dean shrugs. If she really wants to, they'll go. Jade feels bad she was irritated. She turns on her side and slides over next to him, his belly to her back. "I bet the sale will be a big success."
Dean kisses her neck. Jade feels him getting hard. She knows where they're going and is glad for it. Pressing against him, she has a final image—Sarah climbing into her SUV after they'd said goodbye. She'd buckled up for the drive downstate, the bracelet casting prisms.
•
She was seven, waiting with Estelle outside at dawn for the boyfriend. That's how Jade thought of him—the boyfriend. Her mother and Mike were taking a break, as Estelle put it, and this was someone else. They were going for a hike.
Before the boyfriend, there'd been a guy who was into stock cars. Jade had liked being at the speedway. The noise, fancy cars, the vibration that moved into the stands and up her back.
But the new boyfriend liked hiking, so they'd do that. He smiled at her in the rearview. She nodded, still sleepy. They drove. After a while: the tallest mountain Jade had seen.
They got out and climbed a long time, and then they came to a ledge and a small gap and ledge on the other side, and they had to jump across and she wouldn't. Too scared. Estelle coaxed, she cajoled. She shook her head, grim—Don't be such a baby!—and the boyfriend stepped back across the gap and picked Jade up. He held her with care, but she kicked and screamed. When she and the boyfriend were safely on the other side, her mother smacked her butt. It didn't hurt that much, but something shifted in Jade. Estelle looked different to her, like someone she knew but not that well.
From the top she could see across other, smaller mountains all the way to the ocean. She picked blueberries while Estelle and the boyfriend sat on a rock. They stopped at Wendy's on the way home, and the next week Estelle got back with Mike.
•
The kids splash and shout in the shallow end. It's a nice pool, sloped entry, so Tyson can play on the edge. The girls hold hands. 1-2-3, under! Even though Charlotte is three, she seems closer in age to Mia, who's five—I'm glad you came for a play date, Charlotte told Mia when they got there. The girls come up laughing, hair slicked back and water sheeting from their torsos. Jade thinks of seals.
Estelle sits in a lounge chair with the look she gets when she's not the center of things. She gestures with her wine cooler toward the pool and manicured yard. "This is a lot to keep up."
Sarah turns to her. "We have someone do the lawn. And my mom and I—um, both of us like to garden."
"I like to garden too." Estelle raises her voice. "Right, Mike? We have hydrangeas this summer the size of basketballs."
Mike nods. "They're pretty big."
He's sitting by the grill with Sarah's husband, Jeff, and Dean, who's atypically quiet today. Jade can tell Dean's not sure about Jeff, who asked him what he did for work while they were all still standing in the driveway. Dean told him car sales. Foreign or domestic, Jeff asked. Domestic, Dean said. Jeff said, Oh. There was a Porsche SUV in the driveway and an Audi in the garage. How about you, Dean asked. Jeff brightened. Financial planning, he told them. He was opening his own firm soon in the Old Port, and was going back to school for his MBA. Dean nodded— "That's great." But Jade knows that for the Pellerins, work is something you do so that you and your family can comfortably inhabit the other parts of life.
"The girls really seem to like each other," Sarah says.
"Thanks. Charlotte's so smart."
Sarah smiles. "Pre-school's done a lot for her." She's different here, more assured, a little cooler. Jade wants the closeness she felt at the river, wants the day to go well for all of them. Needs it to.
Estelle is digging through the ice chest. During kid talk, she checks out. Children are not her thing—she shows up for Christmas and birthdays, but she's never really extended herself toward Mia or Tyson. Nor does she seem interested now in Charlotte. She finds what she's looking for, pops the top. "We should all get together in Old Orchard," she says. "The beach down there is nice." She tilts her chin toward Sarah. "Your babysitter could watch the kids." By babysitter, Estelle means the au pair they met earlier.
"That could be fun," Sarah says.
Estelle nods vigorously. "Summer's short. Have all the fun you can, wherever, whenever." Everyone chuckles. This they can agree on.
Sarah's pool is Jade's first time in a bathing suit this year. She feels out of shape, pasty. Sarah's pale too but she looks different—no cellulite or sunspots. She looks the way other Thibideaus might look if they didn't show the effects of too much sun and not-so-healthy diets. Not to mention smoking. Thibideaus tend to start out life attractive and wind up looking worn.
Clouds slide across the sun, a dramatic dark then light then dark again that's been going on all afternoon. They'd almost postponed—the forecast called for rain before switching to mostly cloudy—but here they are, uneasy family bound by what? Jade picks at the peeling nail polish she'd meant to redo. She's still glad Sarah invited them, and that they came.
The men have been talking bands they've seen at the Civic Center. Dean is describing a recent Steve Earle concert he loved. "We didn't see that one," Jeff says. He stands up— "Alright, I'm going in!"—jogs for the pool and cannonballs. Mia and Charlotte grab each other. Tyson topples in the wave after the big splash and washes toward the deep end.
Sarah reacts first, jumps in and comes up with the toddler clinging to her, crying. She hugs him tight, frowns at her husband.
Dean goes to the edge of the pool. "What was that about?"
"I'm sorry." Water drips off Jeff's chin.
"Seriously, what were you thinking?" Dean reaches down and takes Tyson.
Sarah's voice is low. "He said he's sorry." Sun again. Sarah tears up. "Maybe I shouldn't have done this."
"Yes, you should have." Jade gets up. She can't stand seeing Sarah so defeated. Can't risk her veering away. "Dean, look, Ty's fine." And true, he's squirming to get down as Jeff climbs out and heads for the house without saying anything else.
"It's late. We should probably get going," Dean says. "Come on out and dry off, Mia."
Estelle's eyes glitter. She looks excited, as if she's outside the family watching, rather than its center. Anger pulses inside Jade. She thinks: This is your fault. You're not the mother you should be.
During the hike when she was seven, the boyfriend had given Jade a canteen. When they got to the mountain, she filled the bottle from a spring. She still knows the boyfriend—he manages the Subway where she occasionally picks up dinner. Sometimes while he's layering the rolls with meat, they talk about those hikes and other times. Your mom was something else, he said.
Mia and Charlotte climb out of the pool, dripping and somber. Jade wants to hug them both. A ruined day. Instead she hands Mia a towel. Sarah wraps one around Charlotte. This morning at St. John's, the service was about forgiveness. More or less a repeat. Jade always tries, but she forgives—she thinks she does—then realizes she didn't.
Sarah puts on her cover-up. Her bracelet glints. It comes to Jade—those are diamonds, not zirconium.
On the way home, Dean is still upset. "That wasn't fun," he says. "Sarah's nice, but her husband seems like kind of a jerk." He grips the wheel. "That Porsche in the driveway? Hybrid, sixty grand base. If you're worried about your carbon footprint, why would you drive an SUV at all?"
Tyson from the back: "Jerk."
"Daddy, you taught Tyson a swear!"
Jade sighs. "Dean, can you just not talk for a little while?" She turns to Mia. "Did you have fun?"
"Yeah. I want Charlotte to come over."
"Maybe sometime."
Inside Sarah's house, Jade had passed a photo of Sarah sitting with a woman Jade took to be her mother. Auburn bob and kind eyes, an arm around Sarah and hand cupped to her shoulder. For a minute Jade had felt stricken. She'd wished she were there, too, that they were hers and she was theirs.
At home they head out to the coop. Chicken dung and feathers everywhere—it gets dirty fast. The hens cluck and crowd the gate. They're mostly Orpingtons and Auracanas, but Jade's favorite is a moody Red that butts her hand for pets.
Dean picks up a shovel. "Sorry I was like that in the car. He got to me."
"The whole thing was stressful."
"It was."
"And Estelle sitting there sipping coolers, like it all had nothing to do with her."
Dean laughs. "There's a surprise."
When they're old, Dean will be one of those guys who's worn the same style Levis for twenty years and watches the Weather Channel days before it snows. But the jeans will still look good on him. He'll talk too much about the storm, and Jade will still love him.
That night Sarah sends a text. She's sorry about what happened. Hopes they still had an okay time. And—please don't say anything but Jeff has adult ADHD, which makes him impulsive.
Jade reads the text three times. Relief uncoils inside her. "Who's that?" Dean asks.
"Sarah, checking in."
It's okay, don't worry, Jade writes back. Thanks again for having us. She scrolls her phone for a shot of the kids in the pool. Hits send. Then sees another one, of Sarah laughing before things turned. Sends that, too.
Sarah calls on Thursday. Does Jade want to meet for a walk? Dean's off work that day, so Jade says yes. Warm June morning—they decide on Falls Park again.
Mist shrouds the path, but Sarah seems not to mind, which lets Jade not mind either. The river's clean now, or cleaner than it's been in a hundred years. And Jade likes walking shoulder to shoulder on the falls path. She thinks, Sarah came to find us. She waits for Sarah to bring up Estelle, and when she doesn't, Jade lets it be for now.
It becomes a Thursday thing—Sarah's kids with the au pair, Jade's with Dean. It makes her happy that Sarah shows up wearing the same visor every week. She doesn't mention the visits to Estelle, justifies it by telling herself Estelle's too busy anyway with her part-time job doing shampoos at a friend's salon.
She learns that Sarah was a gymnast as a kid, competed Level I and went to a camp in Connecticut. Missed Nationals by two-tenths of a point. Sarah flexes a small bicep. "That was a long time ago." Jade laughs.
In high school Jade played volleyball. Competed once in Florida— "The Disney Tournament, first time I saw palm trees."
One Thursday it rains, so they meet at L.L. Bean—an hour east for Jade and up-coast for Sarah. Inside, a toddler is trying to climb into the fiberglass trout pond, screaming when his mother pulls him back. Jade and Sarah smile recognition at each other.
In the café they drink mochas and watch cars stream up Route 1. Then, in the new place they're getting to, mutual disclosure: Sarah wants another child but Jeff doesn't, because of overpopulation. Jade nods, neutral, but then Sarah raises her eyebrows, which lets Jade say, That does sound a little hardcore. She tells Sarah she'd like one more baby too, but Dean's worried about the expense. She says she'll bring it up again when he gets his bonus. They laugh.
"I like your shirt," she says as they're leaving. "You look good in purple."
Sarah reaches for a hug. "I'm really glad we're doing this."
Jade hugs back, hard. "So am I."
On her way home she decides to invite Sarah to bring her kids to the house. But the next Thursday, Mia wakes up with a sore throat. So Sarah comes on her own, and the two of them drink iced tea out on the deck. The kids peer through the windows, and Dean keeps opening the slider. Do they want him to unroll the awning? Does Mia need more Tylenol? Jade feels off balance. She imagines the house through Sarah's eyes—an attempt at farmhouse-chic that's really a hodgepodge of Walmart and Goodwill with a few antiques thrown in. And the deck's plain pressure-treated pine.
"Would you like to see the chickens?"
Sarah would. In the pen, the hens are scratching the ground beneath the ash tree. The Red beelines for Jade.
"Wow, they're beautiful," Sarah says. "Makes me wish we had some."
Jade laughs. "I'd rather have a pool." She pets Red. "Honestly, they're kind of a mess."
She feels better now, glad that Sarah came. Even so, anyone driving down High could see them and mention to Estelle that Jade had company. It's possible her mother wouldn't care about being with them—but Estelle tends not to like things happening without her. Jade decides to pre-empt: "We could walk down and visit Estelle. She has a break at 10:30."
Sarah looks surprised. "Uh, okay."
"It's about a mile. I'll text her we're coming."
The closer they get to downtown, the worse things look. Stores closed, homes in disrepair. Shutdowns at the mill may have helped the river, but they've been hard on the town. Shopper's Island is reduced to basics: two-pump gas station, tired IGA, the diner, and a barbershop that's doubled as Shear Chic salon since the owner's wife closed her shop and moved in with him. That's where Estelle works.
Sarah says, "I messaged her last week."
"Who?"
"Estelle. About the time of my birth. She said she didn't know."
They turn onto Broad Street. Estelle stands outside Shear Chic on the sidewalk. "The two of you," she says when they reach her. "Hello."
Sarah looks uneasy. "Hi."
Jade, filling in: "How's work?"
"Fine. I've started doing shoulder rubs before I shampoo." Estelle flexes her hands. "Clients get a choice, lavender or orange oil."
Jade smiles. Estelle's hands are large and strong. She's probably good at it.
Sarah doesn't smile. She's watching.
"So Sarah decided to come up today," Jade says.
"Jade Marie, did you think I didn't know you've been seeing each other?"
Jade's armpits prickle. Of course.
Estelle lights a Newport, turns to Sarah. "I'm the one you contacted in the first place."
"Okay."
"Okay? How many times have you two gotten together, anyway?"
No answer from Sarah. "Maybe three," Jade says. She presses her nails into her palms. More like six or seven.
"You look tense," Estelle says to Sarah. "I can do your shoulders."
"No thank you."
"I'm good, no kidding. I get great tips. Here—" Estelle pulls two vials from her bib. "Choose whichever smells better to you."
"I said no."
Estelle's eyes are flat. She looks tired. She puts the vials back—"Okay. Suit yourself"—tosses the half-smoked cigarette into a drain. She stands eyeing them a few seconds then walks away. The door jangles behind her.
Jade presses her nails again, hard. Sarah is hurt, and Estelle's not the kind of person who can make it right. For a second Jade thinks Sarah will walk away, too. She imagines it, dark hair down her back, that Thibideau walk. But Sarah doesn't go. They stand in unhappy silence. Jade's scared—Sarah doesn't seem to care anymore about getting to know Estelle. Will Sarah tire of her?
Yet here it is again—that love. She touches Sarah's elbow. "Let's go back to the house."
They start out. After a while Jade says, "That's just how she is. How she's always been."
"It must be hard."
"It is."
The August sun bears down. Jade's fantasies are dissolving. They probably won't all get together anytime soon for a cookout at Great Falls. They won't sit on Estelle's porch next fall while the kids run around in the leaves.
Dried blood rims one of the marks on her palms. She rubs it off. "The Auracanas lay blue eggs," she says. "You can take some home with you."
"Thanks. Oh—" Sarah pulls something from her bag. "I forgot to give you this."
A purple T-shirt like the one Sarah wore at Bean. Jade turns to her. "It's—"
Sarah is crying. "My mom doesn't want me doing any of this," she says. "But I had to."
Jade pulls her in and holds on. Sunscreen, sweat, shampoo. After a while Sarah steps back. Mascara puddles under her eyes. "I've always known how much she loves me."
Jade wonders what that's like. A pang—that arm encircling Sarah in the photo. Among the pictures stacked in Estelle's hutch is one the boyfriend took during the hike. Jade stands in front of Estelle, Estelle's hand on Jade's shoulder. A look that might be pride on Estelle's face—Jade's never been sure. Back there at Shear Chic? She would have said yes to a shoulder rub, with orange oil.
Still, whatever happens between her and Sarah, they'll be doing it on their own. The T-shirt, when Jade shakes it out, unfurls like a banner. She peels off her tank top. Puts on the new T over her sports bra. Sarah runs her index fingers beneath her eyes to wipe away the makeup. "It fits you great," she says. They laugh. They walk. They were raised apart for thirty years; the quiet is somewhere between comfortable and not.
Sarah won't be bringing the family closer, won't bring Estelle closer. Jade knows this. But she'll sort through the photos in Estelle's hutch for some that include her and Sarah's father before he left. Give those to her. Take the one of the hike for herself.
They keep walking. Jade glimpses their reflections in the metallic facade of the credit union, legs and torsos stretched to fun-house length. There's this: the two of them. She meets Sarah's eyes, says "Sisters." Sarah nods—"Yes"—and reaches for Jade's hand. They turn onto High, still not talking much. The leaves on the maples are heat-limp, the sidewalk broken through with roots. Sarah's hand feels like Jade's own. They pick their way along, past Family Dollar, the laundromat, Our Lady of Mount Carmel. The house comes into view, Jade's kids on the front steps while Dean sets up the sprinkler.