Children of Fury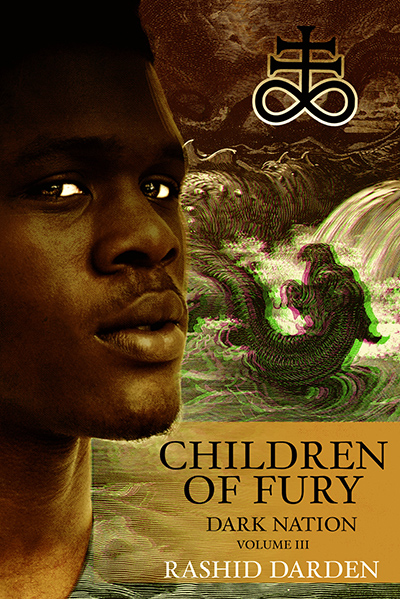 Critique by Jendi Reiter
Rashid Darden's urban fantasy novel Children of Fury: Dark Nation III puts a fresh spin on the "chosen one" trope, starring a gay Black youth and his classmates at a Washington, DC remedial school who are selected by immortal mentors to fight an evil cult. Delonté and his friends are already battling the real-world monsters of sexual trauma, gun violence, an under-resourced education, and other side effects of America's structural racism. This backdrop makes their mutual devotion and resilience all the more magnificent, as their paranormal adventure demands that they quickly attain spiritual maturity.
Darden uses dialogue with skill to differentiate the characters and bring their youth culture to life on the page. The students speak in slang that was sometimes unfamiliar to the judges, but nonetheless easy to comprehend from context. Their language has a rapid music all its own, showing how bonded they are and how they understand each other's deepest thoughts with few words spoken. Fittingly, their teachers speak in more formal English, either with an eloquence that demonstrates their charisma, or with the dullness of bureaucrats who have given up on helping these students beat the odds.
As we later discover, the four most important of these educators are actually mythical beings who've had centuries to hone their appeal to prospective disciples. The lead teacher, Kyren, becomes Delonté's lover as well as his guide to his destiny. The challenges of his quest lead Delonté to evolve from a traumatized youth into a heroic young man who can be Kyren's equal partner. Still, this boundary-crossing raised some eyebrows during our judging, as did the scenes of the teachers smoking weed with their students. Though they're all over 18 and they have good conversations about consent, in real life such relationships are more likely to involve predatory grooming, and we were concerned that the book's teen readers wouldn't have the life experience to recognize this.
We often receive "series" books in the Genre Fiction category, giving us many opportunities to observe how authors strike a balance between writing a comprehensible stand-alone narrative and creating momentum for the next installment. Children of Fury did this better than most. I'd want to read more books by this author.
At nearly 400 pages, the book felt too long and digressive, particularly in the first half. Minor characters were hard to keep straight. Darden could have eliminated some scenes of routine actions and small talk, such as the blow-by-blow of Kyren's first days at the school. My co-judge and I both enjoy school stories, but the dive into the minutiae of educational routines was an awkward shift after the action-packed horror of the prologue.
What we found to be groundbreaking about Children of Fury was how it made heroes out of characters that our biased public discourse typically paints as victims or delinquents. For instance, Delonté is a former sex worker who was pimped out by his abusive stepfather. Tayvon and Stephanie are an unmarried couple mourning their baby's death from a stray bullet. I grew to love every one of these young people and admire their efforts to keep their hearts open in a world that didn't want them to survive. This story will inspire a lot of teens who don't typically see themselves in fantasy literature.
Read an excerpt from Children of Fury (PDF)
Buy this book on Amazon