Rashid Darden
Filed under: Authors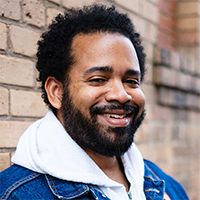 I am Rashid Darden of Conway, North Carolina, and of Washington, DC. I am a novelist. I have written many things: the books Lazarus, Covenant, Epiphany, Yours in the Bond, Birth of a Dark Nation, Children of Fury, Time, and The Life and Death of Savion Cortez; the short stories "Smith and Jones: Young Americans," "Thunder Rolls," and "Pascal;" and the short play "Message from 'The Legba,'" a winner of the OutWrite DC and Theatre Prometheus One Page Play Competition. Clik Magazine deemed me worthy of an Elite 25 Award in Literature in 2006.
I am many things to many people: a National President to the artists of Gamma Xi Phi; a Brother to the men of Alpha Phi Alpha; and a Comrade to my beloved Mu Alpha Chapter of Alpha Phi Omega. I am a Friend among Quakers, a Son of Georgetown, and a proud Coolidge Colt from the Class of 1997. I am a traveler who has made his home in Moscow and in London, and has felt at home in New Orleans, Chicago, New York, Atlanta, and many more places where Black people are free. To my students, I am Mr. Darden, Darden, Pops, Don Dada, and Friend. They are the reason that I push so hard toward my dreams. Although I have been absent from the four walls of a classroom for nearly two years, the learning continues through Instagram stories and regular check-ins.
Above all things, though, I am grateful: to the mother who sacrificed her body that I may come into the world; to the ancestors who could only dream to be not only free, but this free; to the people who named me; to the friends that molded me; to the places that shaped me; to the institutions that sharpened me; to the patrons who support me; and to an imperfect world that slowly, but surely, bends toward progress. And to Neil. And to Jonathan. And to Jordyne. And to Tiffany. And to Karen. And to so many more.
I am an out, Black gay man who has experienced chaos and order, wealth and poverty, urban bustle, and rural peace. I am a thoughtful disruptor. I am an everyday brother. I am tough, but I am fair. I am Rashid Darden of Conway and Washington. I am a novelist. And I am here.
Find Rashid on Instagram and Facebook.
Website: http://oldgoldsoul.com/
Twitter: https://twitter.com/RashidDarden
Contest Won: North Street Book Prize 2020, Honorable Mention