Echoes of Earth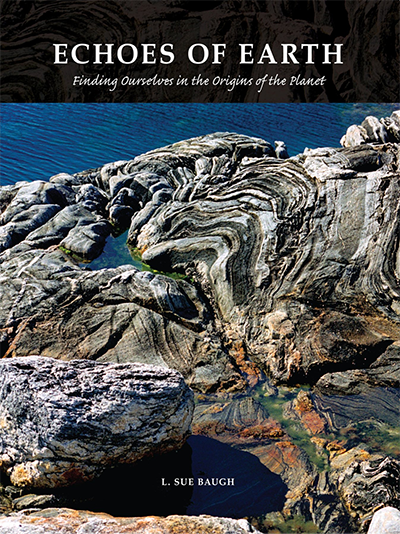 Critique by Jendi Reiter
L. Sue Baugh and Lynn Martinelli traveled to some of the oldest and most remote rock formations in the world to photograph the remarkable landscapes in Echoes of Earth: Finding Ourselves in the Origins of the Planet. Designed and self-published by Baugh, this art book doubles as a work of popular science that illustrates the elemental connections between our bodies and the mineral kingdom.
The authors state in their foreword, "As artists, we sought to experience a landscape that echoed what ancient Earth might have been like long before humanity appeared." Each chapter profiles a location where the pair sought out distinctive and visually striking geological formations, from Mt. Narryer in the Australian Outback to Akilia Island in Greenland, as well as several American and Canadian sites. The reader learns about the rugged travel adventures that enabled them to reach the site, and the spiritual impact of communing with the landscape.
More than any other photo book in the contest, Echoes of Earth employed varied and sophisticated composition techniques to maintain visual interest in its single topic. Diagrams and illustrated maps structured the narrative. Gatefold pages to emphasize the majestic sweep of a mountain range or waterway were interspersed with close-ups of tiny colorful succulents growing between the rocks. Cut-out windows put a detail of a patterned rock into context on the following page.
The authors' poetic raptures about their journeys sometimes veered into over-written and sentimental territory. On the other hand, their respect for the spirits of the land was preferable to the "Great White Explorer" mode of past generations' exotic travelogues.
The last quarter of the book is in a different genre, something that might have made this otherwise professionally-constructed work difficult to publish and market traditionally. Resembling a popular-science magazine article, or an illustrated encyclopedia for middle-grade readers, this section surveys the geological history of earth, the role of the oldest known bacteria in the creation of these rock formations, and how these bacteria are related to the mitochondria in human cells. I personally found it very interesting and well-explained. However, the genre shift was unexpected and abrupt. I wondered if there was a way to weave in some of this information into the main section, instead of expanding it into a full discourse on earth's evolution.
Echoes of Earth would be an excellent addition to a middle- or high-school classroom library, to spark students' interest in geology by appealing to both their scientific and poetic sides. Both adult and youth readers will have more reverence for the humble rocks beneath their feet after spending time with this book.
Read an excerpt from Echoes of Earth (PDF, allow a couple of minutes to download)