Finding Land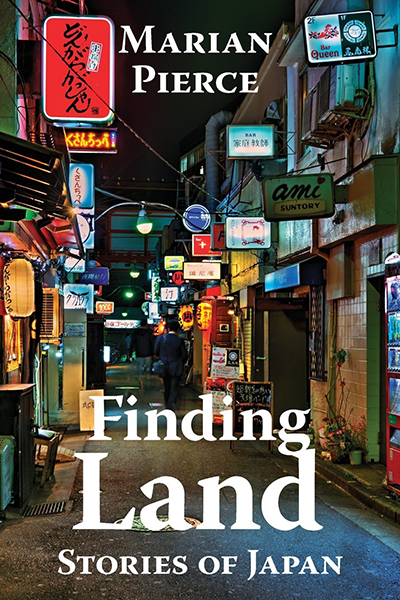 Critique by Jendi Reiter
Marian Pierce's literary short fiction collection, Finding Land: Stories of Japan, centers on an expat Jewish-American woman's efforts to ground herself in her husband's homeland. We first meet Deborah as a young newlywed, struggling to adjust to a different culture's notions of personal space and respect for elders, in the form of an intrusive elderly neighbor who walks into her apartment and tries on her clothes. Is it a language barrier, or something more, that creates distance between her and her reserved husband, Sachio? "There were significant gaps when he listened to me, pauses when he lost words to dark pools of unknown meanings."
Subsequent tales drop in on Deborah at different inflection points in her life abroad: making friends with another American wife, teaching English to a delightfully confused class of Japanese adults, conceiving and then losing a pregnancy as the estrangement between her and Sachio grows. In her last appearance, now divorced and middle-aged, she is visiting Tokyo again after 15 years in America, where a poignant encounter with two strangers in the park helps her reconnect to memories of the family she lost.
Finding Land impressed us with its exquisite writing and depths of feeling. We learned a great deal about Japanese daily life, landscapes, and culture, but it never seemed dry or like an info-dump. Every detail had significance to show how the characters' relationships and self-knowledge unfolded.
The last three short pieces in this collection, though equally well-crafted, felt out of place because they were unrelated to Deborah's story arc. Structurally, it would have made more sense to write one more piece about those main characters, or else to intersperse a couple more unrelated tales with the Deborah stories so that the sudden shift in perspective at the end of the book was not jarring. At 165 pages, the book was a satisfying length, but there would be room for 20-40 more pages without feeling overstuffed.
I would also have liked to know what year each story took place. It never hurts to be explicit about this, especially when your book spans a large amount of time. Clues suggested that Deborah's marriage covered the late 1980s to early 1990s, but having to deduce this information was an effort that pulled me out of the story.
This was a well-designed paperback with an elegant typeface and a colorful, atmospheric cover photo of neon shop signs on a Japanese street. Proofreading errors were minimal. Finding Land was a strong contender from the outset of our judging process, and would be worthy of traditional publication by a university or independent literary press.
Read an excerpt from Finding Land (PDF)
Buy this book on the author's website