From Mormon to Mermaid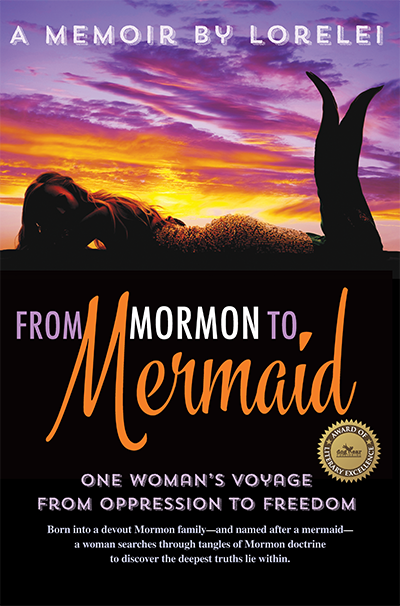 Critique by Jendi Reiter
Lorelei Kay's relatable memoir, From Mormon to Mermaid: One Woman's Voyage from Oppression to Freedom, depicts a feminist awakening that set this devout wife and mother on a stormy but liberating journey away from the religion she once loved. Lest her story be dismissed as one disgruntled woman's misinterpretation of Mormon creeds and practices, Lorelei backs up her claims with news sources and church documents demonstrating how thoroughly male superiority is built into the Church of Latter-Day Saints. As they say on Twitter, she has the receipts.
By her account, Lorelei had a happy, normal childhood in a Salt Lake City family descended from the original 19th-century Mormon settlers. This isn't a sensational tale of underage polygamy or lawbreaking cults. Her father named her for a legendary mermaid and encouraged her to study and ask questions. Her mother delighted the family and neighborhood kids with the art projects and talent shows she organized. Creative exploration was encouraged…up to a point.
The author recalls how her Sunday School teacher told her at age seven, "When the prophet speaks, the thinking is done." Lorelei's father made a convoluted effort to reconcile this directive with believers' free will, but her subsequent life showed that the compromise was unworkable.
Like many traditional religious organizations, the Mormon church depended on an army of female volunteers whose leadership was not acknowledged or compensated. When Lorelei was a teenager, the church threw its financial and political clout behind blocking the Equal Rights Amendment. Decades later, they were instrumental in passing Proposition 8, the (thankfully short-lived) ban on same-sex marriage in California. The author's devotion to the church was continually tested by cognitive dissonance between the amount of labor that women did, and the official stance that excluded them from authority.
Where even to begin with the years of microaggressions and WTF moments that finally made this woman say "enough" in middle age? Perhaps with the bishop whose sex advice for her troubled marriage boiled down to saying oral sex was a sin, so she should provide the pleasure her husband wanted, but "it's up to you to get him not to want it." Or with the church's quiet backtracking on their historic doctrine denying full membership to Black people, a reversal accompanied by no apologies or efforts to publicize the change to its white-dominated congregations. Or when Lorelei's young daughter is in tears because her Patriarchal blessing is so generic and seemingly uninspired by the Spirit, compared to blessings from the early history of the church.
First-round judge Annie Mydla said of this book: "At a time when religious fanaticism is growing stronger in our country and worldwide, I'm finding books with an inside view irresistible… The author is not content to escape and then expose the unhealthy aspects of the system she was born into. She also finds something rich and strange within herself… [The mermaid theme] communicates that freedom is not just escape, it also involves the responsibility of creating new and sustainable conditions in which the real self can live every day."
I normally recommend that memoirists build their story arc around a significant incident or short time period in their life, rather than survey their whole life chronologically. However, the latter technique not only works in From Mormon to Mermaid, it's the only way she could have effectively depicted the slow accretion of sexist hurts and unanswered questions that ultimately became a load too heavy to bear. I'm grateful, too, when an author provides date-stamps in chapter headings for a tale that spans decades. I was always able to orient myself in time and location in this narrative.
The recurring metaphors of mermaids and oceans gave consistency to the storytelling, but became repetitive and sentimental after awhile. Nonetheless, the watery feminine archetype was a good choice to juxtapose with the patriarchal religion of the Utah desert.
The book design was straightforward and legible, enhanced with family photos that conveyed the vibes of each decade. At 200 pages, plus endnotes, it was pleasantly concise and moved along smoothly. The cover design of a mermaid silhouetted against a gold and purple sunset was eye-catching and modern. This educational and inspiring memoir would be a great pick for a women's book club—though the men in leadership are the ones who really need Lorelei's prophetic word!
Read an excerpt from From Mormon to Mermaid (PDF)
Buy this book on Amazon