Lay of the Land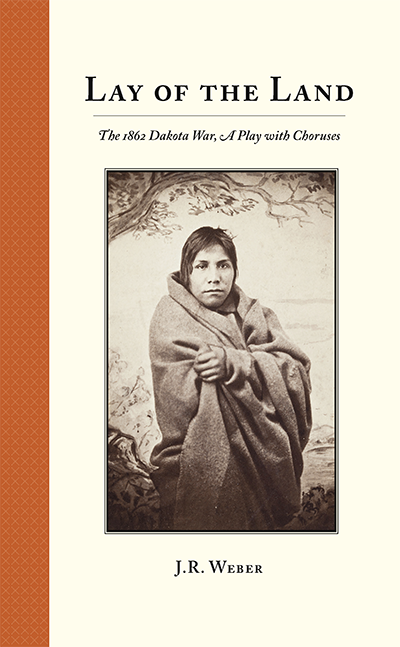 Critique by Ellen LaFleche
Lay of the Land, J.R. Weber's dramatic play in verse, is one of the most creative entries we've received in the history of our contest. Meticulously researched, with an extensive bibliography, this Grand Prize winning book portrays the 1862 attack by Mdewakanton Sioux warriors against a government agency in Minnesota. As described on the book jacket, "The war was short-lived, as settlers joined to repel the attack and troops were sent to apprehend and punish the most active warriors, but its legacy endures...It is a story of diplomacy, betrayal, corruption, and great suffering, of heroic and terrible acts."
Jendi commented that they were "blown away by this poetry-drama", noting that it reminded them of classic 20th-century verse plays by authors like T.S. Eliot and Maxwell Anderson. We both were intrigued by the idea of a writer reviving old formal techniques that have fallen out of fashion.
The poetry was highly imagistic, with a good dramatic rhythm, and some passages that were linguistically quite beautiful. The book in whole or in part would make an excellent play for a high school drama club or a college class. I can also see this book being used as a text in literature or history classes. I especially liked the device of a Greek chorus to provide background information in a dramatic way.
We both loved this entry for the importance of the story it tells, and the nuanced portrayal of different Native American factions—some trying to hang on to the old ways, others trying to assimilate for survival. The white immigrant farmers were also depicted compassionately, as they tried to hang onto land that wasn't rightly theirs because they wanted a way out of oppression in Europe.
This is not a book to be read in one sitting. It is over 100 pages with long lines and tight spacing. There are many dramatic speakers to keep track of, with some assistance from the cast of characters list at the beginning. It took me a while to get used to the density of the style, but the effort was worth my time. The extensive bibliography will be helpful to anyone interested in further researching the events.
I learned a lot not only about Native American history, but a deeper appreciation for the complicated cultural, social, and political issues of the time. Most important was my emotional response to a terrible chapter in American history; the issues of oppression resonate strongly with modern day events.
Here is an especially chilling passage:
Nathaniel Lamsom (speaker):
"...I am applying
For my reward for killing the Indian chief
Little Crow. I have already received some money:
Yes, the $25 bounty for killing
An Indian wandering around our state. I showed
The chief's scalp as proof."
Jendi expressed some mixed feelings about the writer's decision to include large prose chunks of text from source documents. Some of these were very informative, however, especially those that showed the racist tone of the media at the time. The litany of condemned Indians' names in President Lincoln's proclamation was most effective and chilling. Other prose passages could have been shortened or deleted. The text could have used some visual breathing room with a slightly larger size and a bit more space between lines. These are relatively small concerns in an otherwise outstanding effort.
The book had a strong binding with an evocative cover photo of Wowinape, a young Native American man from 1864, courtesy of the Minnesota Historical Society.
We congratulate J.R. Weber on this outstanding achievement and look forward to reading more from him.
For a limited time, Mr. Weber has generously made Lay of the Land available to download for free (PDF). Please do not redistribute it without written permission from the author.