Red Blood, Yellow Skin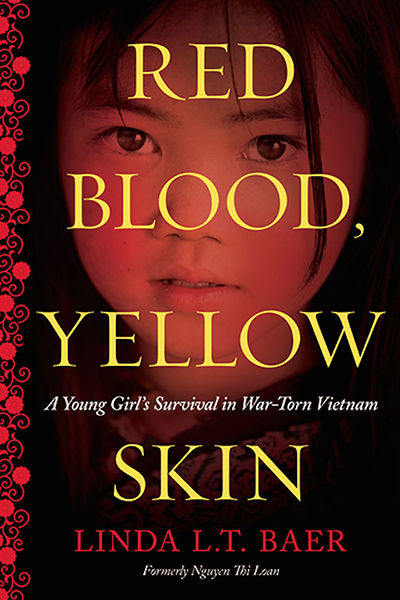 Critique by Ellen LaFleche
Red Blood, Yellow Skin by Linda L.T. Baer is one of the most compelling books in the two-year history of the North Street Book Prize. This winning memoir is an important contribution to the history of the Vietnam War and deserves a place on course syllabi. Born Nguyen Thi Loan in a village in North Vietnam, the author was a young child when her beloved father was killed by soldiers and his face mutilated in death by a machete. The book opens with a vivid description of this horrific event; I could hear the wails of a young child who had just lost her father. Grief and loss continued to stalk her childhood as she and her family endured bombing raids, hunger, and constant displacement.
Baer's calm, clear writing and her focus on small details such as the water bugs that lived in the family's fishpond made the horrors feel all the more vivid and real. Her ability to create a sense of childhood wonder and joy in the midst of hardship and violence was one reason this memoir rose to the top. Her writing is especially remarkable because Baer did not learn English until her late teenage years. A memorable childhood scene centered on her love for her pet, a one-legged chicken that served as a source of emotional support. I felt the enormity of her grief when she discovered that the chick had died in a raid. More loss and grief followed when her best friend was killed by a tiger that was tormenting the village.
Baer educates the reader about the role of America in the Vietnam War without losing the narrative thread—not an easy literary task while writing from the perspective of a child. Readers will also learn about Vietnamese food, weather, customs and work, and see the surviving photographs of her childhood.
The book has some proofing errors, which seemed to become more numerous in the second half. In fact, the latter chapters on Baer's adult life were a bit less compelling; this may be more a comment on the strength of the childhood chapters than any specific weakness in the adult chapters.
This memoir is a significant document of the immigrant and refugee experience, particularly the wrenching disruptions of daily life as the family fled from village to village in an attempt to stay a step ahead of war, followed by the author's move to America as an adult. Given the recent political controversy about refugees and immigration, Red Blood, Yellow Skin is especially relevant and timely.
The print edition is aesthetically attractive with readable print and a sturdy binding. I hope a sequel is in the works so I can learn about Baer's life in America and how trauma might have affected her life after the war.