Linda L.T. Baer
Filed under: Authors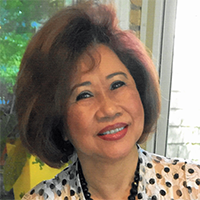 Linda Loan Thi Baer was born Nguyen Thi Loan in 1947, in the small village where she was raised, Tao Xa, Thai Binh Province, North Vietnam. Her father was killed during a Viet Minh attack on her village in 1951. Her mother was married again, to a wealthy practitioner of Chinese medicine, and a war widower himself. Their family relocated to South Vietnam during the mass exodus of 1954, and was forced to move constantly due to economic, political, and military conditions. They eventually settled near Vung Tau, south of Saigon.
Loan left home at an early age, to seek work at various menial jobs in Saigon, to help her family, and to escape the physical abuse of her stepfather. She met and married an American Air Force Officer in 1968, and accompanied him to the United States in 1971. She became a naturalized American citizen in 1973, and while giving birth to and raising two sons and a daughter, obtained her High School GED and attended many college courses.
She spent an additional four years in Vietnam, where her husband worked, and was evacuated in April 1975. She accompanied her husband to Iran from early 1976 to late 1978, and was evacuated shortly before the revolution in Iran in early 1979.
Linda graduated first in class from her School of Cosmetology and received her certification from the State of South Carolina. She is the owner/operator of the successful "Elegance by Linda B." Beauty Salon in Charleston, SC.
Website: https://www.facebook.com/lindaltbaer
Contest Won: North Street Book Prize 2016, First Prize