Return of the Convict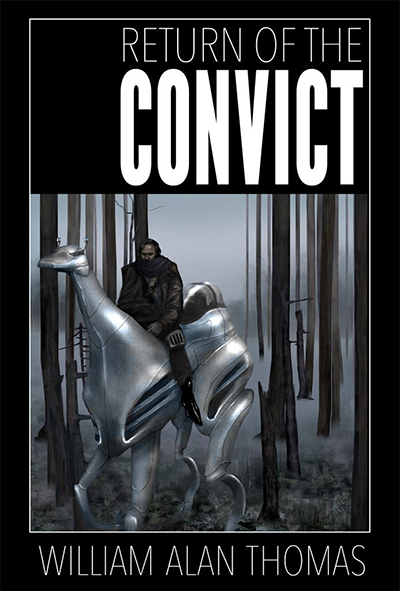 Critique by Jendi Reiter
Return of the Convict by William Alan Thomas is a science fiction adventure novel that takes its central conflict from Charles Dickens' Great Expectations. An ambitious, rule-following young man makes the unwelcome discovery that his benefactor is a transported convict who has illegally returned to interfere in his life. The twist here is that the younger man is also the outlaw's clone, and their association threatens him with not only social stigma but a forced merger of their consciousness.
In a post-apocalyptic North America now ruled by the United World States, Dom Tessier is a talented but somewhat passive cadet at Vancouver's Space Training Academy. Cadets receive brain implants to make them telepathic for more efficient functioning in the world-wide technocracy. As the story unfolds, we discover that clones sometimes choose to merge mentally with their original template person so the older one can extend their life in a younger body.
The titular convict, Lucas Rivera, is a violent man whom some consider a hero, others a criminal. Before the year 2143, when the book begins, Earth was devastated by epidemics and natural disasters. Lucas rescued and brought in immigrants when America was still overpopulated. For this crime, he was exiled to Mars, in the same way that convicts in Dickens' time were transported to Australia. Now, a much smaller population of human beings is rebuilding society with ecologically friendly technologies and wise supercomputers. Lucas sneaks home to seek treatment for his terminal cancer, and failing that, hopes to survive through sharing Dom's body. Dom's resistance to Lucas' bid for immortality ironically lands him in the same sort of legal trouble as his benefactor, and the book ends on a cliffhanger with Dom being transported back to the Martian labor camp from which Lucas escaped.
The theme of individual consciousness versus telepathic hive-mind is echoed in the political struggles of the future world that this book creates. The world government faces armed resistance from guerrillas for North American independence. Some of the space cadets are wary of the telepathic implants while others believe that humans should go further and allow Raina (the Great One), a supercomputer in India, to command them like a deity.
The philosophical questions raised by these scenarios were fascinating, but unfortunately under-developed because there were too many blow-by-blow scenes of Lucas fighting adversaries. Thomas may be laying the groundwork for future books, but this one had almost an over-abundance of good ideas that crowded each other out. I also found it implausible that post-apocalyptic Earth would not only rebound within roughly a century, but develop AI and space-travel technology that is currently beyond us. Simply setting the book a bit further in the future would have solved this problem.
Perhaps not unusual for this genre, there was more emphasis on action and technology than on the characters' emotional life, to the point that the book felt flat sometimes. Dom was often naive and passively went along his pre-set path in life until it was too late to disentangle himself from the web that others wove around him. We first encounter him wearing a psychotropic bracelet to dampen his emotions so he will be a more docile prisoner—perhaps a logical behavior by his captors, but an unnecessary obstacle to bonding with him as a protagonist. It's challenging to write a main character who starts out with enough gumption to be compelling, when the storyline is about his rude awakening from the trance of obedience. This challenge was not completely met. Lucas and his "varlet" Tomi, a cross between a medical-assistant robot and a telepathic pet octopus, were full of personality, though.
What made this novel stand out was its sense of place and beautiful descriptions of the Pacific Northwest ecology. A lot of post-apocalyptic fiction takes place in overcrowded urban hellscapes or blasted wastelands. It was a nice change to imagine a rebooted Earth where the waters are sustainably harvested and extinct species are re-introduced into a healing ecosystem. The Vancouver setting was a fresh choice.
In terms of proofreading and editing, this was one of the cleanest books we received. The black and silver cover design is striking, with original artwork of the sinister Lucas on a robot camel in a misty forest. It's immediately clear what kind of book this is, in genre and mood. Interior chapter and page headings were in a well-chosen block-capital "science fiction" font that mimics early computer printouts. I would recommend taking out "A novel of 97,500 words" on the interior title page because no professionally published book would say that. This is a world I would be interested in revisiting in the sequel.