River Queens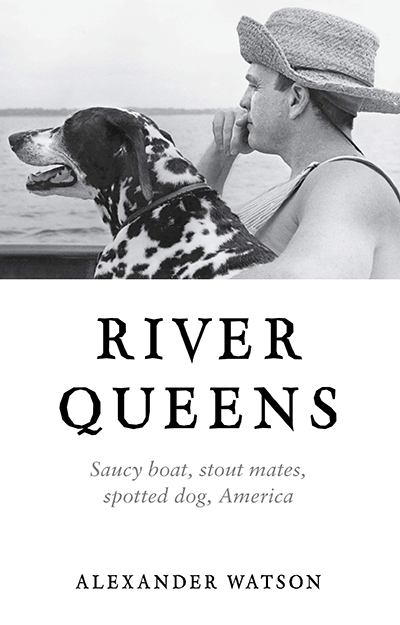 Critique by Jendi Reiter
Alexander Watson's lively travelogue-memoir River Queens chronicles a middle-aged gay couple's unlikely odyssey across the rural South in a vintage wooden yacht. Seemingly on a whim, and at a crossroads in their career of renovating and flipping houses, Watson and his partner Dale Harris visited a Texas boat show in 2001 and fell in love with a 1950s Chris-Craft. Watson's experience in his family's antique business convinced him that the vessel, which they renamed Betty Jane, was a work of art that deserved rescuing.
With no prior knowledge of sailing, the pair deployed all their handyman skills to make her seaworthy, till in 2008 they were able to set out on an ambitious river journey from Texas to Ohio, with no crew except their faithful spotted dog. Mechanical mishaps and bad weather tested the couple's bond. Many colorful characters offered them hospitality in their out-of-the-way marinas and welcomed them into the family of river travelers.
The men emerged with a stronger, though never friction-free, relationship, and a new appreciation of parts of America that they once feared or disdained as urban gay men. What we now call "red-state" territory is reputedly hostile to folks like Alexander and Dale, but in practice, respect for the couple's rugged mechanical skills and courageous journey outweighed their hosts' perplexity at their "lifestyle". The book serves as a useful reminder that neither the rural South nor the gay community are cultural monoliths.
Ellen and I had differing opinions on how the Southerners' appearances and habits were described. We often lament that male writers ruin a good story by gratuitous assessments of female characters' sex appeal. Thus, I found it refreshing that Watson's narration painted affectionate portraits of folks who were elderly, poor, or plus-sized—in contrast to the many tales we read that are populated by unrealistically glamorous, sexually willing secretaries and the like.
On the other hand, Ellen pointed out that it felt classist to joke about the garish colors and synthetic fabrics that poorer women had to wear, or to describe a woman stuffing junk food in her mouth. We wondered why there weren't more interactions with people of color. If the boating world is largely white, it would have been interesting to reflect on this.
The details of boat maintenance were more engaging to me than to Ellen. However, we both agreed the book would have benefited from one more structural edit to foreground the personal drama and family history that only emerged in the final 75 pages. The narrative opens with Watson's flamboyant, domineering mother informing him of his brother's suicide, but we never learn any more about this significant event. Watson's conflict with his partner's un-accepting Christian family was another meaningful plot thread that shouldn't have been relegated to the last chapters.
The physical book was professionally designed with a sturdy hardcover binding and glossy book jacket. The text was readable and mostly error-free. The black-and-white cover photo of the author and his dog on shipboard had a literary, Jack London aesthetic that fit well with the contents. We appreciated the opportunity to go on this unique journey with Alexander and Dale.
Please read an excerpt from River Queens (PDF)
Buy River Queens on Amazon