Uncle Otto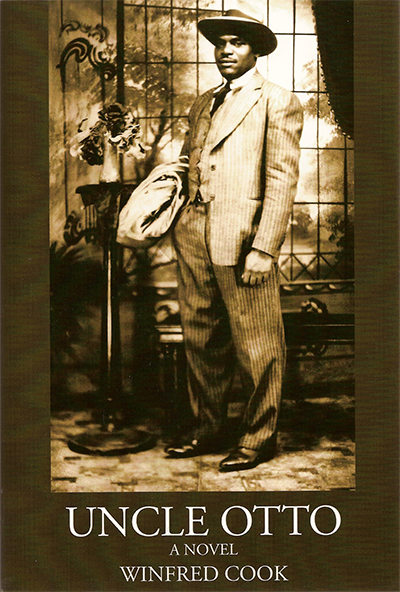 Critique by Jendi Reiter
Winfred Cook's novel Uncle Otto is an emotionally gripping family saga and a worthy addition to the literature of African-American history. In the tradition of Alex Haley's Roots and Queen, Cook uses research about his forebears as raw material for dramatizing a representative story of racial oppression, migration, and economic mobility during the first decades of the 20th century.
The novel is bookended by memoir chapters in which Cook describes growing up in 1950s St. Louis with his extended family. For as long as the author knew him, his uncle was physically disabled and nearly speechless from a stroke, rumored to have been caused by poison from a jealous girlfriend. According to family legend, though, in his heyday Otto was a charismatic, adventurous, even dangerous man who made his fortune as a gangster and bootlegger during Prohibition.
This contrast fascinated Cook enough to reconstruct not only his uncle's life but the brave journey of Otto's parents from impoverished Beaumont, Arkansas to St. Louis in 1914—part of the "Great Migration" of African-Americans from the rural South during the period around World War I. The reader learns much about the emergence of, and resistance to, the black middle class in the North during the 1920s. While Otto's mother Mary becomes part of the sales force for Madam C.J. Walker's innovative hair products for black women, his father David begins managing pool halls and numbers runners, a career choice that contributes to Otto's turn to the wild side. Meanwhile, with the help of a sympathetic Jewish lawyer, David tries to enforce a land deed that he won from a white man in a card game, but the law and justice are two very different things for a black man in Arkansas.
With such a large cast of characters and historical scope, Uncle Otto could have been an unwieldy project, but Cook keeps the story moving energetically along, focusing on the most high-stakes anecdotes of love, loss, crime, and reversals of fortune. The personalities are distinctive and three-dimensional, and their flaws are treated compassionately. A cinematic attention to setting makes the scenes linger in the reader's mind.
Stylistically, there were a few too many cliché descriptions (e.g. robin's-egg blue sky) and repeated phrases: "shining like new money" impressed me as a metaphor the first time, but was over-used. We wondered whether the characters' use of the N-word, as a term of endearment or gangster slang, was anachronistic. Would bootleggers sound this much like rappers? In our email chat with the author, he had this to say: "The term has been used as an endearment for many generations, and it was not until it was deemed politically incorrect that it was banished from black vernacular as commonplace. So, yes, it is used in slang by rappers, but it stems from our history, and has just now been banned."
As a title, "Uncle Otto" is accurate but not very interesting. The book might sell better if Cook had chosen a phrase more evocative of the glamour and excitement of the Harlem Renaissance and Roaring 20s. Again similar to Haley's Queen, and perhaps a flaw in both books, the title character does not take center stage for some time. About a third of the way in, I began wondering what was the through line. However, the characters and settings were fascinating enough to pull me forward. Cook concludes the story perfectly with a poignant scene of Uncle Otto's deathbed and his realization of the deep affection between them. We sense that the process of writing this novel taught the author to see and appreciate his uncle from a mature perspective, which was not possible when he was alive.
In terms of design and proofreading, this book was beautifully put together and cleanly edited. The hardcover from iUniverse looked professionally published and held up well to rereading. The cover design was also very "literary" with a rich brown border around a sepia-toned photo of handsome, roguish Uncle Otto in his pinstriped suit and fedora. He certainly looks like a man with an intriguing tale to tell. His nephew has made it possible for us to hear him speak once more.