Willoughby's World of Wonder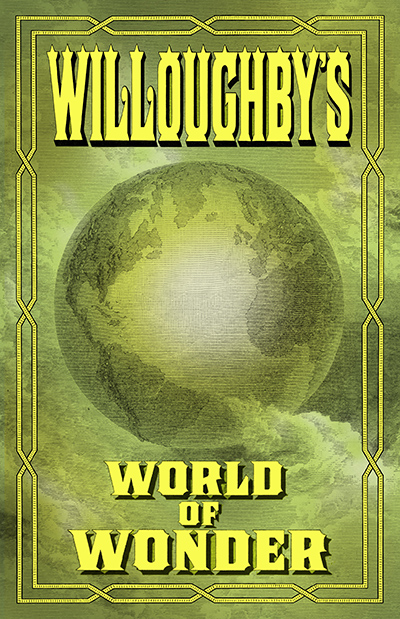 Critique by Ellen LaFleche
Read Willoughby's World of Wonder by Stephen Barnwell and take a trip into the Jungian collective unconscious, into a fantasy world of fairies, goblins, ogres, and trolls. Bugbears and merfolk! Bookhounds and tooth faeries and centaurs, oh my!
Jendi and I have spirited debates about the strengths and weaknesses of each final contender, but we immediately agreed on how much we loved this uniquely enchanting compendium of mythological creatures, with Jendi describing it as "charming and unique, with meticulous detail to look like a real Victorian reference guide. Whimsical sense of humor, great illustrations."
Each page contains a fantastical illustration of a mythological creature or magic structure along with encyclopedia-style "information" that includes the creature's size, habitat and description. Did you know that faeries are five to six feet tall, and live in forests, ravines and deep gorges? Or that they "are the highest order of Fey folk, and the most powerful...neither evil or good, they simply do not care for the affairs of men. Faeries have the ability to move freely between our material world and the Fey Realm."
The book includes an appendix and bibliography with illustrated Victorian-style advertisements for related products such as astral doorways! The creatures are grouped into categorized chapters that include The Fey Folk, Creatures of the Sea, Creatures of the Night, and The Wee Folk. The language is appropriately Victorian with a perfect blend of mischief and meticulous scholarly research.
The illustrations are especially enchanting, requiring other-worldly amounts of skill, work, time, and attention to detail. Jendi mentioned that they would have loved this book as a child, and I am in agreement. It would have created a sense of wonder and sparked all kinds of group or solitary imaginative play.
There were a few misspellings and the binding was a bit tight. There is no plot per se, which may be a bit disappointing to readers of traditional graphic novels. I describe this volume as having a self-driving plot; reading it will evoke memories of bedtime stories or spark imaginative storylines in the reader's mind.
Try reading the following without smiling or having your imagination take you into magical places:
"Gargoyles. These distant cousins of the dragon have adapted to life among humans by nesting on cathedrals and other religious edifices, imitating sculptures... They usually prey upon small animals, such as sheep, dogs, cats, and rats, but if a Gargoyle witnesses a crime, such as a murder or robbery committed by a human, they have been known to attack and eat the predator."
Read an excerpt from Willoughby's World of Wonder (PDF)
Buy Willoughby's World of Wonder from Antarctica Arts and on Amazon