Stephen Barnwell
Filed under: Authors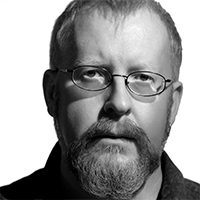 Stephen Barnwell fell in love with publishing rather late in life. At the age of fifty-four he designed and published his first book entitled Capital Offenses, a monograph of his political satire artwork. Unexpectedly, his very first book was named a "Best Books of 2014" by Booklife/Publishers Weekly. His six other books to date include fine art monographs, illustrated fantasy, coloring books, and a lyrical exploration of dreaming. As he is primarily a visual artist, Stephen's books all have a common theme: they are centered around strong design and lots of artwork.
His father, John L. Barnwell, was also a fine artist, so Stephen grew up in a home filled with art and encouragement, drawing, painting, and writing through his youth, and earning a BFA in photography from Bard College. Recently retired from a 36-year career in commercial photography and video production, Stephen is now a full-time artist working in illustration, design, and digital art. His fine art has been exhibited in over ninety shows in museums and galleries around the world, with a recent solo exhibition at Monmouth Museum in New Jersey.
His newest book, Willoughby's World of Wonder, was recently named a "Best Book of 2019" by Kirkus Reviews. Stephen wanted to create a different kind of book, one that looked like an artifact from the nineteenth century. He wrote an entire false history, describing Willoughby's as a long-forgotten "Field Guide to Curious Creatures" which he has restored and republished. To complete the fiction of Angus Willoughby's authoritative bestiary, Stephen's name only appears in the book as the publisher. Each of the 133 illustrations is a detailed collage of nineteenth-century engravings, a technique he has used since 1999, combining dozens of disparate elements with prodigious retouching and hand-drawing. Despite the Victorian writing style, however, the book is filled with whimsy and humor—and a tongue firmly planted in cheek.
These days, Stephen divides his time between making fine art and publishing books. Currently, in addition to his colored pencil artwork, he is working on a new book entitled Horrors of Science. Like Willoughby's, it will also be a "reproduction" of a nineteenth century classic, filled with unusual engravings of strange Victorian science, quackery, and metaphysical phenomena. Follow Stephen on Instagram.
Twitter: https://twitter.com/StephenBarnwell
Website: https://www.stephenbarnwell.com/
Contest Won: North Street Book Prize 2019, Honorable Mention