Winged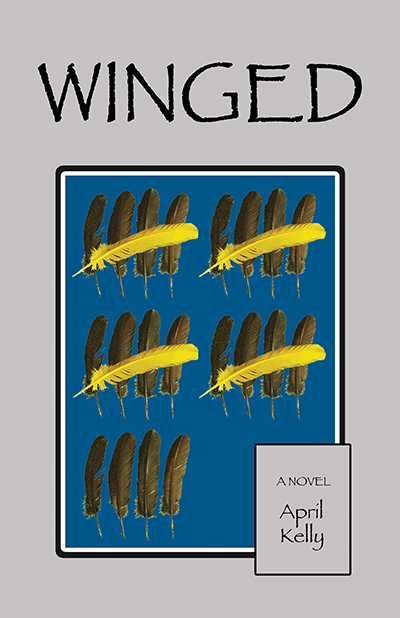 Critique by Jendi Reiter
Like its protagonist, April Kelly's novel Winged is a hybrid creature: a contemporary family drama, a magical-realist fable, and a meditation on how we support our children (or not) when their dreams take them far away from us.
Winged takes place in everyday modern America, with one twist: A human baby girl, Angel Fitzgerald, is born with tiny stubs of wings that grow into a gorgeous feathered wingspan when she reaches puberty. Her mother, Allison, refuses the advice of doctors and social workers to remove them at birth so the girl can have a normal life. She chooses to parent with acceptance for what she might not understand, the opposite of her judgmental religious parents who kicked Allison out when she became pregnant from a frat house rape. Throughout Angel's eventful and perilous life, Allison (and the reader) are repeatedly forced to wonder whether this was in Angel's best interest, because the girl becomes obsessed with learning to fly, and risks everything to make her dream come true.
When judging this book, we debated whether it was important that Winged never tries to give a reason for Angel's mutation. In the end we decided the wings were not a science-fiction premise but a poetic metaphor to intensify realistic psychological themes, like Stuart Little's mother giving birth to a talking mouse. Because the wings are a thought experiment, one can project many real-life situations onto them. For instance, I thought of parents deciding not to do gender surgery on an intersex infant; an interracial adoptee on a quest for her birth family and culture; or seeing your adult child choose a dangerous vocation such as the military, pro sports, or emergency first responders. These are just a few of the resonances that readers might find with their own experiences of loving and letting go.
A former TV writer and producer, Kelly knows how to write a high-stakes drama with a tight narrative arc. Winged was one of the few shortlisted books with no extraneous characters or over-long digressions. If anything, a couple of the plot threads were tied off a little too neatly, in service of that Hollywood feeling of closure. As when watching an exciting, tear-jerking movie, we suspended our disbelief while we were caught up in the emotional momentum of the story, but afterward a few quibbles surfaced.
Though we can see how a bullying subplot could have hijacked the story she meant to tell, we didn't find it plausible that Angel's schoolmates would all be so blasé about her very visible difference from them. Young people can be cruel about the slightest nonconformity, and the target's beauty and charisma are as likely to exacerbate jealousy as to be a protective factor. Not to give away too many spoilers, but we also questioned whether Allison, a white middle-class woman with sympathetic mitigating circumstances, would really receive the harshest possible sentence for her crime of revenge.
The book cover from Flight Risk Books had an elegantly understated literary feel, with muted colors and a pen-and-ink style of font for the title. The typeface and formatting were readable and modern-looking. The binding held up well to reading by several judges. Kelly showed smart marketing skills by including one-page teaser advertisements for her other books at the end.