Billie Kelpin
Filed under: Authors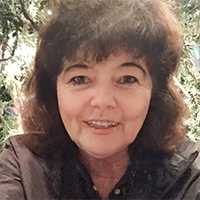 Billie Kelpin is a writer and former teacher of the deaf and sign language interpreter. Her literary works encompass fiction and creative nonfiction, with publication in Lost Coast Review and the anthologies The Truth That Can't Be Told, Books I and II. Her portfolio includes essays, short stories, her debut novel, Falling Idols, and a book for children, Lucky, the Left Pawed Puppy. These works often reflect her varied life experiences and the unique perspective of a left-handed person living in a right-handed world.
She earned her BA in Deaf Education from the University of Wisconsin-Milwaukee and has pursued graduate work at Hamline University in Minnesota, focusing on teaching writing to English as a Second Language Students.
Fueled by a fascination with technology, Billie is the creative mind behind her company's free learning games at Language Rocks, designed to enhance language and cognitive development. She has also developed several websites featuring these engaging games.
As a grateful member of California's OC Writers and Lake Forest Writers' Round Table, Billie finds inspiration within this vibrant community of talented authors. Currently, Billie has chosen the lifestyle of RV living on the picturesque West Coast, alongside her supportive husband, Michael, their faithful shih-tzu, Henry, and close to their adult children. There, they pursue a love of kayaking, campfires, and interacting with the ever-changing parade of people in and out of California's RV resorts.
Website: https://www.billiekelpin.com/
Winning Entry: Sylvia
Contest Won: Tom Howard/John H. Reid Fiction & Essay Contest 2023, First Prize