Deborah A. Fox
Filed under: Authors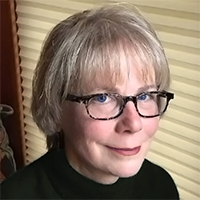 Deborah A. Fox is an award-winning mixed-media artist and author who works in digital art, computer graphics and effects, painting, and photography. Deb uses all her talents in her latest passion, graphic novel creation.
In 2016, Deb created her first graphic novel, Everett Massacre, combining her love of writing with her cinematic skills. Everett Massacre brings to life the 1916 showdown between mill workers and lumber barons, winning both a Washington Museum Association Award of Excellence and a William F. Brown Award.
Her new graphic novel, The Man Who Beat Death Valley, captures the stunning Western landscape and tells a thrilling, true story of struggle, love, and survival. In order to transport readers back in time, Deb and her husband traveled the Oregon Trail across the country and hiked through isolated areas of Death Valley as she photographed images for the book.
Deb is currently working on a sequel to The Man Who Beat Death Valley and another graphic novel about early 20th-century feminist Emma Yule.
Born in Los Angeles, California, Deb grew up drawing comics as a kid and never stopped. She attended Otis Art Institute and launched her career as a storyboard illustrator for movies, film, and commercials. As a post-production visual effects artist, she worked on major television series, movies, and music videos. Her creative work earned her two Emmy nominations, one for title design and the other for visual effects. Drawn to the beauty of the great Northwest, Deb moved to Seattle in 2000 and continued her work in post-production, as well as writing and directing commercials and videos. Deb enjoys hiking and camping with family and friends.
Website: http://debfoxdesign.com/
Twitter: https://twitter.com/DebFoxDesignCo
Instagram: https://www.instagram.com/deborah.a.fox/
Contest Won: North Street Book Prize 2021, Honorable Mention