Emily Bracale
Filed under: Authors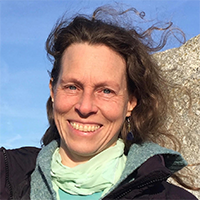 Emily Bracale's work often combines art, writing, and teaching in order to support creativity and healing. Her first book, In the Lyme-Light: Portraits of Illness and Healing (2011), is based on a traveling art and writing exhibit she created in 2010, revealing her experiences with chronic Lyme disease to raise public awareness. The second edition (2014) includes more paintings and discusses the potential for the severe disabilities of Lyme to foster deep psychological and spiritual transformation. The Lyme-Light exhibit and books have helped hundreds of patients communicate their experiences and needs to their families, friends, and doctors. Emily has been a major voice for the Lyme community in Maine, coaching hundreds of patients on self-advocacy, lecturing at Lyme conferences, and teaching workshops for medical professionals.

Patient advocacy turned out to be one of the major themes in Emily's life, informing her latest book, Our Last Six Months (2018). This graphic memoir describes her recent experience helping a close family member while he was dying of cancer and offers a close-up view of medical and end-of-life care decisions many patients and their families encounter as death approaches. By including nearly four hundred comics, cartoons, and illustrations with the written narrative, her goal was to pique people's curiosity and then get them thinking about (and discussing) topics we commonly avoid. Many readers claim the book was "really fun to read" and that they're grateful to have it as a conversation starter to share with loved ones.

Some of Emily's formative experiences include growing up on a farm in Michigan, being raised in a family of artists and teachers, attending the Interlochen Arts Academy, studying art and education at Amherst College and College of the Atlantic, writing and sketching scenes of daily life while traveling through Asia and Europe, and homeschooling her children.

In Bar Harbor, Maine, Emily is a well-known artist and teacher. She has been a classroom teacher in Waldorf and public schools, an art teacher K-8, and mentored college students. Currently she teaches private drawing and painting classes for children and adults. Her landscape paintings are in private collections in the USA, Europe, and Asia, and her cartoons can be seen on medium.com. Currently she is working on a children's book about Acadia National Park and a memoir about teaching in a one-room school.
Contest Won: North Street Book Prize 2018, Grand Prize