Imani Josey
Filed under: Authors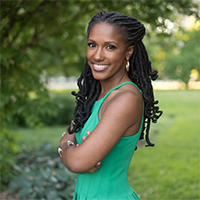 Imani Josey is a writer, dancer and fitness professional from Chicago, Illinois. After graduating Howard University, Imani received her Master of Science in Communication from Northwestern. Sometime during all of that studying, she danced professionally for the Chicago Bulls as a (Luvabulls) cheerleader, and won the titles of Miss Chicago and Miss Cook County for the Miss America Organization, as well as Miss Black Illinois USA.
Her one-act play, Grace, was produced by Pegasus Players Theatre Chicago after winning the 19th Annual Young Playwrights Festival. In recent years, she has turned her sights to long-form fiction. She blogs at http://www.introvertprobs.com/
The Blazing Star is her debut novel.
Website: http://www.imanijosey.com/
Twitter: https://twitter.com/officialimanij
Contest Won: North Street Book Prize 2017, Honorable Mention