Joanne Lichtenstein
Filed under: Authors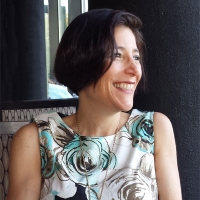 Joanne pursued artistic endeavors from an early age, after discovering that crayons were better for coloring than for eating! She has written numerous poems (mostly humorous) and one day hopes to write and illustrate a children's book. She also has an ear for accents, dabbles in voiceover, and is building a home sound studio to record and produce commercial audio books.
To fund her artistic pursuits, Joanne has enjoyed an eclectic freelance career behind the scenes in entertainment (and credits a sense of humor for seeing her through). She started in 1988 as an estate manager, bookkeeper and personal assistant, both on and off the set, and later became lead coordinator and production manager of numerous special events, concerts, and gala award shows held in Los Angeles, as well as in New York and London. Among many other projects, she coordinated a six-day animation festival and served as law office administrator on a high profile celebrity trial.
When one client required her to manage a website, Joanne quickly realized that digital artistry appealed to her meticulous nature, and taught herself to use InDesign, Photoshop and Dreamweaver. As a copywriter, editor and graphic artist, she has overhauled multiple websites, designed posters and invitations, and written/produced dozens of gala program books, playbills and other publications. She designed and edited a recent travel book, ghost-edited a celebrity autobiography, and is also an award-winning fine artist whose prints and commissioned works appear in collections across the United States, as well as in Europe, Scandinavia and North Africa.
Website: http://joannelichtenstein.com/
Contest Won: Tom Howard/Margaret Reid Poetry Contest 2014, Honorable Mention, Margaret Reid