Judy Juanita
Filed under: Judges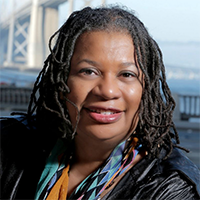 Judy Juanita was the final judge of our 25th Tom Howard/John H. Reid Fiction & Essay Contest. Her debut novel, Virgin Soul, chronicles a black female coming of age in the 60s who joins the Black Panther Party (Viking, 2013). Novelist Jean Thompson said of Virgin Soul: "Hard to believe it's been almost fifty years since the formation of the Black Panthers. The novel captures that time's particular combination of violence and possibility, and the urgency of young people who invested everything in the possibility of change, even as grand rhetoric was undercut by very human failings."
Juanita's collection of essays, De Facto Feminism: Essays Straight Outta Oakland (EquiDistance Press, 2016), examines the intersectionality of race, gender, politics, economics, and spirituality as experienced by a black activist and self-described "feminist foot soldier". DeFacto Feminism was selected as Book-of-the-Month for December 2016 by the African Americans on the Move Book Club (AAMBC), and was a Kirkus Reviews Book-of-the-Month for March 2017, which gave it a starred review. Juanita is a contributing editor for The Weekling, an online journal, where many of the essays appeared. The collection was a distinguished finalist in OSU's 2016 Non/Fiction Collection Prize. Her work is archived at Duke University's John Hope Franklin Research Center for African and African American History and Culture.

Crab Orchard Review's Allison Joseph said Juanita's fiction "should be required reading for anyone studying the vicissitudes of recent American history." Juanita's short stories and essays appear widely, and her poetry has appeared in Obsidian II, 13th Moon, Painted Bride Quarterly, Croton Review, The Passaic Review, Lips, New Verse News, Poetry Monthly, and Drumrevue 2000.

In drama, Juanita's themes are social issues overlaid with absurdity, humor and pathos (in one play, a distraught nurse whose teenage son has overdosed falls head over heels in love with a duck). Her seventeenth play, "Theodicy", about two black men who accidentally fall into the river of death, won first runner-up of 186 plays in the Eileen Heckart 2008 Senior Drama Competition at Ohio State University

She was awarded New Jersey Arts Council Fellowships for her poetry and earned an MFA in creative writing from San Francisco State University. She has taught writing at Laney College in Oakland, California, since 1993.